Get Yours Now. The 20%+ OFF Sale runs through:
Discover all FIVE new Xero Shoes
Veracruz sandal
A totally new design with a barely-there feel


Xcursion
A fully waterproof barefoot-friendly hiking boot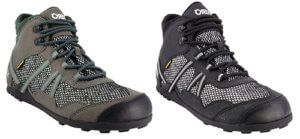 Mika for women
Cold-weather friendly with water-repellant canvas, soft flannel lining, heat-reflecting insole, and grippy tread

Denver for men
The Mika's brother with the same attributes

Alston for men
When you need something super comfy but dressy enough for work


Enter to WIN a pair
FIVE lucky winners can pick any one of these new products. You could be one of them!
Take the actions listed on our Sweepstakes app (depending on the device you're using, it's either on the RIGHT of this page, or further DOWN) to collect entry points. The more points you collect, the better your chances of winning.
Some activities can be done daily, so enter every day!

Launch Sale Prices!
Save 20%+ on all new 2019 Xero Shoes… the Veracruz has an even BIGGER discount.
Get more than one style and SAVE MORE!
Order more than one style and get an EXTRA $10 off (for example, get a Xcursion and Mika, or Denver and Alston, or Veracruz and Mika and Denver, etc.).

Enter our Sweepstakes to WIN a pair!
Use the sweepstakes app, below, to enter to WIN a pair of our 2019 Xero Shoes. The more activities you do, the better your chances of winning.
Xero Shoes 2019 Product Sweepstakes

Questions about the new styles?
Join me for on our Facebook page — https://facebook.com/xeroshoes — on MONDAY, August 26th at 9pm, Eastern (that's 6pm Pacific) for the last FB Live Chat before this sale ends.
Here's a recording of the FB Live event I just did (Sunday, the 18th), where I not only showed and answered questions about the NEW products, but also showed off some secret 2020 products!
Anything else?
You can email or call our Customer Happiness Team — support@xeroshoes.com or 303.447.3100.