Product Description
"I love the leather, and the traction I got with these shoes was phenomenal." – Cassie C.
WHAT MAKES THE PRIO ALL DAY THE PERFECT SLIP-RESISTANT SERVICE SHOE?
SHOES YOU'LL WANT TO KEEP ON. EVEN
AFTER A HARD DAY'S WORK.
With the Prio All Day SR's low-to-the-ground design and wide toe box, your feet will feel as free at the end of the shift as they did at the beginning. The huarache-inspired tensioning system gives you the secure fit you'd expect from Xero Shoes, while the slip-resistant sole, with our dual-direction chevron pattern, provide traction you can depend on in your job.
At a lightweight 7.5 ounces per shoe for a women's 7, not only will you barely notice you have them on, they won't slow you down. So you can get back to work, and your life.
GOES ANYWHERE. GOES WITH EVERYTHING.
Available in all-black, full-grain leather to meet service industry standards, the Prio All Day SR is your perfect slip-resistant service shoe, but also pairs with jeans, khakis, shorts and leggings.. No need to change shoes when you go to your after-work hang-out spot with your favorite co-workers.
WE MAKE SHOES SO COMFORTABLE, YOU'LL FORGET THEY'RE EVEN ON.
If your feet don't feel as good at the end of the day as they did in the beginning, you haven't tried the Prio All Day SR.
Life-changing comfort and superior performance come from letting your feet do what's natural – bend, move, flex and feel.
All Xero Shoes feature a wider, foot-shaped toe box that lets your toes spread and relax, a non-elevated "zero drop" heel for proper posture, low-to-the-ground design for perfect balance and agility, and a flexible sole that gives you "just right" protection so you can bend, move, flex, and safely Feel the World® in total comfort.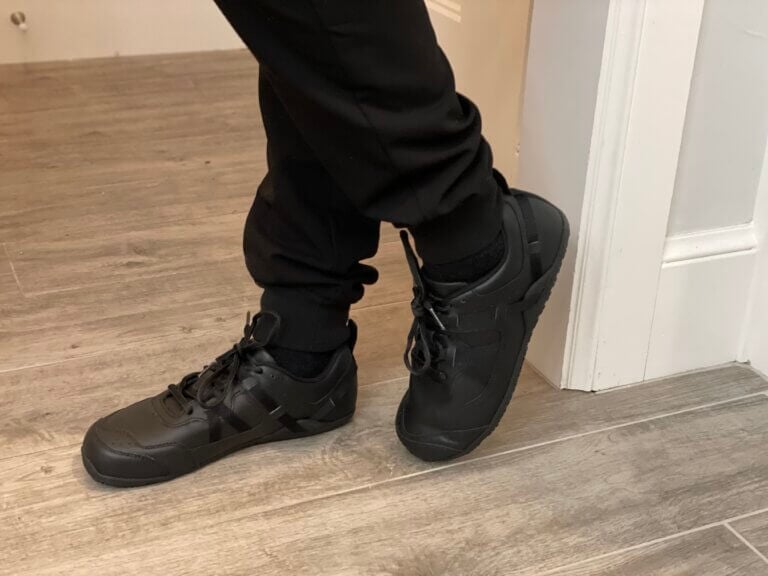 Check out some of these video reviews… then read the rest by clicking the Customer Reviews tab, above: