A Minimalist Sandal Men and Women Love
What are minimalist sandals?
They're a new spin on mankind's oldest footwear, made with modern materials.
They're durable, stylish, affordable, but really light and low-profile so it feels like you're not wearing anything even though you can have strong layer of protection.
Your feet and legs can work the way nature intended. Your posture can naturally realign.
Minimalist sandals are flexible, they're functional, they let your feet move and bend and flex, and they fit your feet. They don't constrict your feet. They're not too stiff. They're not too high off the ground. They're not about being decorative; they're about being functional — though there are some really fun ways to decorate your sandals, if you like.
Thanks to Chris McDougall's bestselling book, Born to Run, and research from Harvard's Daniel Lieberman, people all around the world are discovering the magic of minimalist sandals — also known as barefoot sandals — because what they really do is let your feet move as if they were barefoot, but with a layer of protection.
Many people have reported that from wearing minimalist sandals their running has improved. It's helped heal old injuries, helped strengthen their feet (because they can move their feet). Some people, like me, found that their flat feet develop arches in them for the first time (shoes can reshape your feet!).
One worry that people have when they have the idea of going barefoot is they might step on something unpleasant and that's where a minimalist sandal comes into play because, again, it gives you that total natural experience but with the perfect layer of protection.
So that's why you'd want to try a pair of minimalist sandals. And whether you want a ready-to-wear pair or a do-it-yourself pair, we have both of those at Xero Shoes, our award-winning sandals that are made specifically for natural fit, natural function, natural feel, to let you feel the freedom, feel the fun and feel the world.
Hundreds of thousands of people all around the world are using minimalist sandals almost every activity — running, walking, hiking, camping, biking, CrossFit, yoga, working out, stand up paddle boarding… and much more.
Are Xero Shoes minimalist sandals comfortable?
The simple answer: Yes.
Surprisingly so, in fact.  But probably not for the reason you think.
First of all, comfort can be a little misleading. Think about this: a Tempur-Pedic bed feels really comfortable when you lie on it. But try and jump on it… not so good for jumping. So padding in shoes can feel great when you step on it, but that doesn't mean it's really good for you.
What's really good for you, and what's genuinely comfortable, is using your feet naturally.
Your feet are designed to bend, to flex and feel the world. You have more nerve endings in the soles of your feet than anywhere but your fingertips and your lips. A quarter of the bones and joints in your body are in your feet. This is not an accident. You're supposed to use them – bend and flex and feel. You don't need a high-heeled sole because that's not the way your body is designed. That can put your pelvis all out of whack and mess with your posture.
So what makes Xero Shoes sandals comfortable is mostly how they get out of the way and let your feet move naturally, let your body move naturally, and give you just the right amount of protection for whatever you want to be doing.
Our 4-millimeter, do-it-yourself, Connect sandal sole with our FeelTrue rubber that just gives you some protection if you're running on roads, for example, just enough so that you don't have to worry about the sole of your foot so much. You're going to feel things. It just gives you a little protection from stuff that could be pointy or pokey. And it keeps your feet clean 😉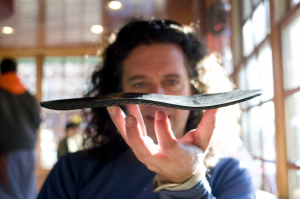 And then we go to our 6-millimeter sole—we call that Contact—and that's the same idea but just, again, 50% thicker. So it's a little more trail-friendly. Our Venture sandal as an example — the Venture is actually just a ready-to-wear product made with our 6-millimeter Contact sole from our DIY sandal making kit.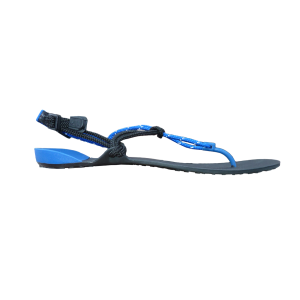 If you want a little extra comfort though, you can use our Amuri Cloud, which actually is the same sole as the Venture except then we laid just a little bit of BareFoam™ in the forefoot so it just gives you some extra comfort. Plus it reduced weight. People put this on and it's so light they go, "Wow, it's like I'm not even wearing anything," but it's just so comfortable because of that tiny little bit of foam. It's not like a Tempur-Pedic. It's not like cushy. It's just a little bit so your foot goes, "Aah."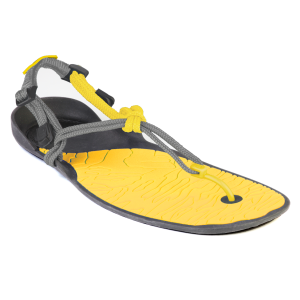 By the way, here's another issue about comfort: People sometimes confuse our huarache style sandals with flip-flops. Xero Shoes are not a flip-flop, even though there's a toe thong.
In flip-flops, you have to grab with your toes, or jam your toes into that thong. You have to grip with your toes to hold it on your foot. In fact this study about flip-flops vs. shoes vs. bare feet highlights some of issues with flip flops.
What holds our thong style sandals on your foot is the lacing that goes all the way around your ankle and, well, your entire foot.
So that lacing holds the sandal on your foot so you're not putting extra pressure on the thong, where you normally get a pressure point on a flip-flop.
Lots of people who don't like things between their toes try our ready-to-wear Cloud and Venture sandals and they're amazed at how comfortable they feel because there is less pressure than what they're used to with a flip-flop.
But if you don't want something between your toes, we have our Amuri Z-Trek sandal, which uses the same base as that Contact from before but with a sport-sandal-style webbing. It's really, really, flexible so your foot moves and bends and flexes naturally.
And then, there's our Umara Z-Trail sandal, which is our trail-friendly sport sandal. What makes this so comfortable, have so much protection, and still be so flexible is our three layer FeelLite™ sole.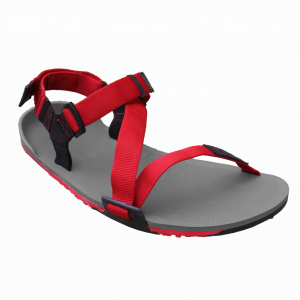 The first layer is our FeelTrue rubber which gives you abrasion resistance. The TrailFoam middle layer evens out the bumps. The BareFoam on top gives just that little bit of cushioning underneath your foot that makes you go "Aaaah."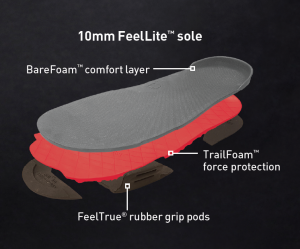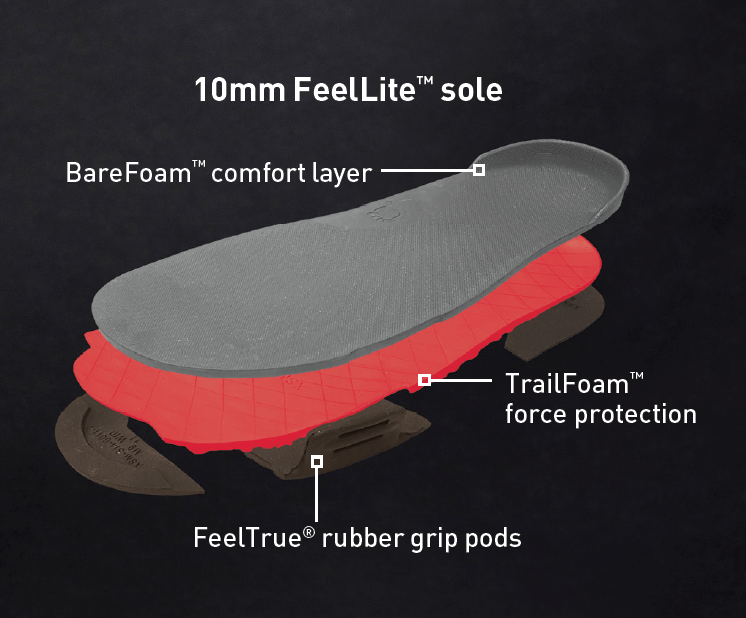 What makes this comfortable, again, is that your foot can bend and flex and move naturally… unlike other sport sandals which are big, thick, stiff, heavy, and brick-like.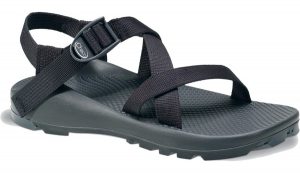 One testament to the comfort of minimalist sandals is that we have more than a 120,000 people in 94 countries wearing Xero Shoes from everything from taking a walk to running ultra marathons to doing yoga or CrossFit to wearing these as recovery shoes because they let your toes splay out and bend and flex after being cramped up in a running shoe.
We just want you to feel what it's like to get out restrictive shoes (what we call "foot coffins") and into a minimalist sandal that lets you move naturally so you can feel the freedom, feel the fun and feel the world.
Read our reviews
If you're not sure about how comfortable a minimalist sandal like Xero Shoes can be, check out the reviews on each product page, like this one for the
Z-Trail
. Or check on
Facebook
or on
Twitter
or on
Instagram
.
Just read what other people like you have been saying. Sometimes they were really skeptical like you were and they found that it was a whole different story. Here's a review from LIVESTRONG that sums it up perfectly:
"These shoes did not seem like they were going to handle much when I first tried them on. A few cleverly placed straps and thin yet comfortable material for the sole and nothing more. Well, 45 days of daily wear which included hiking over various terrain – beach sand, river crossings, rocks, gravel, manicured city trails, and a few trips into the woods with no path at all proved that not only did these shoes hold up to the abuse, they'd become my favorite light shoe. The compact minimal design allows them to fit into the smallest pack and washing them is as simple as a quick spray-down with a hose. They could be used as trail shoes and still look nice enough to wear later at a barbecue."
So again, check out the reviews, see what people think, and if you have any questions give us a shout. We're always happy to answer, to help, so that you can get out into a pair of minimalist sandals and feel the freedom, feel the fun, and feel the world.
How We Make Ours (and what makes Xero Shoes the best minimalist sandal)
How to Make Minimalist Sandals
How do you make a pair of minimalist sandals if you have a do-it-yourself bent?
Well, the easiest way is go to XeroShoes.com/shop and pick up one of our do-it-yourself sandal-making kits.
When you do that, you get a pair of outsoles in the size that's right for your foot, in the thickness that gives you the protection you want (We have our really ultra-minimalist 4-millimeter Connect kit or our 6-millimeter Contact kit which gives you a little more protection). Our soles are made with our exclusive FeelTrue® rubber — designed with help from former designers from Nike and Reebok — so durable that we back them with our 5,000 mile warranty.
You select a pair of laces in one of 22 colors, so you can mix and match colors of soles and colors of laces to get the style that you want.
We give you a hole punch because you punch a hole for the lace to go where it fits your unique foot shape, and then we give you instructions on the dozens of different ways that you can tie a pair of sandals so you can use them for running, walking, hiking or pretty much anything in between.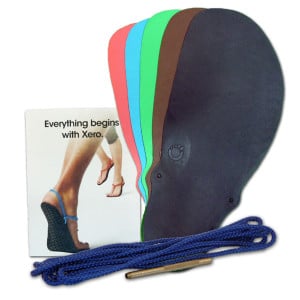 You can also try our Classic Kit if you want an even "more DIY" experience. With that, instead of our FeelTrue soles, you get a sheet of Vibram Cherry rubber from which you make your outsole.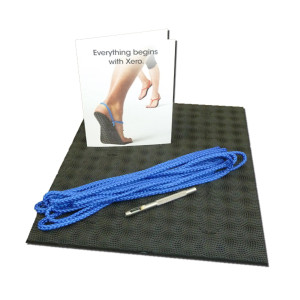 Now, if you want to strike out on your own, I'll give you the world's fastest lesson on how to make a pair of minimalist sandals. Humans have been making sandals like these for about 15,000 years and it's not rocket science or, as they said way back then, it's not rock science. So here's the gist:
Get some sort of sole material – leather, rubber, whatever you can find. The material that we make, our FeelTrue rubber, we designed it specifically for this purpose, so I guarantee you're not going to find a better material than this in terms of flexibility, durability, protection. That's why we have our 5000-mile sole warranty. You don't want something so flexible that it just flops over. You don't want something so stiff that it doesn't bend and flex and let your foot move naturally.
Then you'll want some sort of lace material. Again, our polyester laces are designed specifically for minimalist sandals. They don't stretch — you don't want anything elastic since that can make your foot slide around  They're water-resistant. They're color-proof.
Be careful about using using leather. When leather gets wet, it expands. When it dries, it gets stiff and can be brittle. And leather laces will typically have edges that can cut into your foot. But there are no edges on our round laces or, actually, even on our sport sandals, we use tubular webbing so that there are no edges on that as well.
Okay, back to how you make them. So what you're going to do is poke a hole in the sole at a spot that's between your toes, between your first and second toe, just in front of the webbing. You're going to take the lace and put it through that hole and tie it down or secure it in some way. And then thread the lace around to the outside ankle hole — just put a hole right there sort of underneath your ankle bone — then bring the lace around your heel to the inside ankle — again put a hole sort of underneath your ankle bone — and then you're going to just secure the lace up against the toe strap.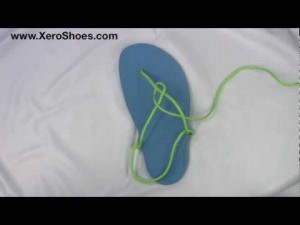 Now, there are a lot of different ways of doing that. Take a look at our Tying Page.
You'll find more explicit instructions for making minimalist huarache sandals here.
Frankly, we don't care if you buy our do-it-yourself minimalist-sandal kits or not. We just want to have more and more people going out in a pair of sandals so they can feel the freedom, feel the fun and feel the world. And we can't wait to hear what happens when you do.
Do we use leather?
People ask if we use leather — in the laces or the soles — for our minimalist sandals.
The answer is No.
We don't for a couple of reasons.
We like that we're making a vegan sandal product—we don't want to exclude people from being able to wear and enjoy Xero Shoes—but there's also another issue with leather. Well, a couple.
One is it's really expensive. The other is that if you have a leather sole, well, when leather gets wet gets really floppy and expands, and then when it dries it gets hard and it contracts. Because it's a natural material, it doesn't last as long as synthetic materials.
And with the lace or the strap, the leather has edges that can dig into your skin.
One reason people like leather is after you wear it for a while it develops a patina over time. That patina is actually dirt and sweat and bacteria, which is why leather can absorb smell in a way that just using our rubber or our TrailFoam and BareFoam don't. So that's why we're currently not using leather.
Men's and Women's Styles
We have minimalist sandals for both men and women.
Some of our products are unisex, like our Cloud and Venture. The shape is designed to fit as many different feet as possible, but we've designed for both men and women. So the men's size, 7 for example, is the same as the women's size 8.
We also have sandals that are more specifically for men or women, like our Z-Trek as an example and Z-Trail.
The difference between the men's and women's is mostly width. So if you're a man with a narrow foot, you can use the women's product; if you're a woman with a wide foot, you can use the men's product.
Also, sometimes we'll use colors only available in the men's products… and colors unique to the women's products.
On the Z-Trail and Z-Trek you'll see another difference between men's and women's. On the men's styles, the webbing is slightly wider than the webbing for the women's version product, 20mm wide for men and 16mm wide for women.
| | |
| --- | --- |
| Men's Z-Trail sandal | Women's Z-Trail sandal |
Of course, our do-it-yourself kit lets you do whatever you like regardless of whether you're a man or woman, with narrow or wide feet. You select the sole that's the size that's right for the length and the width of your foot, and then you  trim the entire sole to perfectly match your unique foot shape regardless of your gender.
Sandals for Toddlers
At this time, which is the summer of 2016, we're not making ready-to-wear sandals for toddlers or for kids. What we do have for toddlers and kids — and we have hundreds and hundreds of parents who have done this with their kids — is our do-it-yourself kit. It's a great family project to make your own sandals.
One recommendation if you're going to make a pair of minimalist sandals for a toddler:
Toddlers put a lot of pressure on the lace of the sandal, at the spot that goes through the sole, and on the knot underneath the sole. So, you're going to want to get some flexible epoxy or some Shoe Goo, which we sell on our website, and you're want to coat the knot area and the first like half-inch of the lace because above the lace. That'll just give it a little more strength and durability. We also recommend using the "Lace Bead" shown in many of our tying styles.
How do other brands compare?
Chaco
Chacos are a popular brand of sport sandals… far from minimalist, though, they're actually quite heavy, thick, and stiff.
In fact 3 pairs of our Umara Z-Trail sport sandal weigh less than one pair of a popular Chaco sandal.
Teva
Similar in many ways to Chaco, Teva sandals are also not a minimal option.
Luna
Luna Sandals were also inspired by the tire sandals worn by the Tarahumara Indians in Mexico. They have some minimalist option and some that are much thicker and stiffer. As of this writing (summer 2016), Luna only offer huarache-style sandals (with the toe thong).
Comparatively, you'll find that Xero Shoes are more affordable, don't require any "breaking in", have a wider variety of color options (especially with our DIY kits), have an easier tying system, and are backed by our 5,000 mile warranty.
Where are minimal sandals sold?
Where can you buy Xero Shoes?
Well, clearly the easiest place is right here on our website. We ship all around the world. We have sold Xero Shoes to over 120,000 people right now — and by the time you see this even more —  to people in 94 countries including:
India
Australia
Singapore
Canada
UK
We have physical stores in the US and all around the world as well.
If you go to XeroShoes.com/stores, you will see the current list of stores that carry Xero Shoes.
We're adding new stores every week, so check back on that list or subscribe to our newsletter so you hear about new stores.  So definitely check back and see where you can try on a pair, or just get yours here and start feeling the freedom, feeling the fun and feeling the world
Find out more…
By the way, if you start wearing minimalist sandals, be prepared for some people to think you're crazy. While we've had hundreds of people tackle hikes, trails, and climbs that most people think require hiking boots — and, again, our ancestors did the same in less-sturdy sandals than Xero Shoes — some people might, well, say some insulting things to you as you happily traverse your path 😉
Here's some of what you might hear if you're running in a pair of minimalist sandals or running barefoot 😉
We've got lots of other resources on our site to help you learn more about making, wearing, and enjoying your minimalist sandals. Check the menu at the top of the page. And enjoy our
blog
.