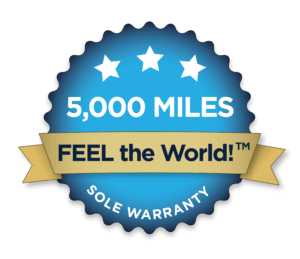 When people ask, "How long will my Xero Shoes last?" we say, "We don't know, but it's going to be a long, long time!" (I've put well over 5,000 miles on mine.)
That's why we offer this 5,000 mile sole warranty.
If you wear your FeelTrue® outsoles (or FeelTrue® section of Z-Trail) down to less than 1mm thick at the ball or heel of the foot (not an edge), we'll replace them with the same product (or, if the product has been discontinued, the product we feel is closest to the discontinued model) for the following price:
60% off MSRP (full, non-sale, listed, retail price) for the product, plus shipping.
We don't expect you'll ever need this warranty, but if you do here's what to do:
Contact us by phone or email. We'd like your order number, photo(s) of the sole, and a photo of the tongue tag (if it's a closed-toe shoe). If you don't know your order number, name and email should do it. If you purchased your Xero Shoes from anywhere other than our website, please provide your receipt or other proof of purchase. We'll provide you with a Return Authorization Number (RAN) and the total cost to ship the replacement.
Send your old pair back to us with your payment and the information above and we'll get your replacement right out. We do not accept returns without a RAN.
The 5,000 mile sole warranty is non-transferable and only valid for the original purchaser of the shoes.
Purchases made from Amazon.com (Amazon.com, Amazon.co.uk, Amazon.de) are eligible for our 5,000 mile sole warranty provided that the product is purchased from Xero Shoes (as indicated by the words "Sold by Xero Shoes" or "Sold by Xero Shoes EU" on the Amazon.com order page).  Please include your Amazon order ID in your warranty claim request.
Further, Xero Shoes are guaranteed against manufacturer defects for 24 months from the date of purchase.
We will do whatever we can to make sure you're happy with your purchase. If you have any other problem with your Xero Shoes, contact us by phone or email including
Photo(s) of the issue. If it's closed-toe shoe, please also send us a photo of the tongue tag.
Your order number. If you don't know your order number, your name and email should do it.
This warranty does not apply to any defect arising from misuse of the shoes, including overexposure of Z-Trail or Aqua Cloud sandals to excessive heat (so don't keep 'em in a really hot car or exposed to intense sunlight). The warranty is valid for Xero Shoes FeelTrue® outsole products only. It does not apply to Vibram Cherry products, laces, or accessories.
(While our 5,000 mile warranty does not technically cover sole damage from attack by Tasmanian Devils, we may make an exception if you save all the pieces. Yes, this actually happened!)
We recommend hand washing your Xeros in warm water with a mild detergent. Please allow them to air dry afterwards. Placing your shoes in the washer or dryer may result in deformation and will not be covered under warranty.
NOTE: If you purchased your Xero Shoes from anywhere other than our website, check in with your original retailer first. If you're still within their normal return / warranty period, they should be able to help you right away. Otherwise, contact us with your receipt or other proof of purchase and we'll be more than happy to help!
THE WARRANTIES SET FORTH ABOVE ARE EXCLUSIVE AND NO OTHER WARRANTIES, EXPRESS OR IMPLIED, INCLUDING BUT NOT LIMITED TO ANY WARRANTY OF MERCHANTABILITY OR FITNESS FOR A PARTICULAR PURPOSE OR USE, ARE MADE BY FEEL THE WORLD OR ARE AUTHORIZED TO BE MADE WITH RESPECT TO OUR SHOES. FEEL THE WORLD's ONLY OBLIGATION IN THE EVENT OF A DEFECTIVE SHOE SHALL BE TO REPAIR OR REPLACE THE SHOE. IN NO EVENT SHALL FEEL THE WORLD BE LIABLE FOR ANY DIRECT, INDIRECT, SPECIAL, INCIDENTAL, OR CONSEQUENTIAL LOSSES OR DAMAGES.
Some jurisdictions do not allow the limitation or exclusion of incidental or consequential damages, so the above limitations may not apply to you. This warranty gives you specific legal rights, and you may also have other rights that vary by jurisdiction.
Feel The World!®