With 5 years on the national Inc. 5000 list of fastest growing companies in America, Feel The World, Inc. (dba Xero Shoes) adds another feather in its cap, ranking #39 for fastest growing private companies in the Rocky Mountain region.
Co-founders Steven Sashen and Lena Phoenix say, "We are SO grateful to our customers and employees who've helped Xero Shoes not only grow at this rate, year after year, but who've discovered the benefits, comfort, and FUN you experience when you get out of 'normal' shoes and Live Life Feet First!
See more about the Rocky Mountain region's fastest growing companies here > https://www.inc.com/regionals/rocky-mountain
And check out Xero Shoes' profile at https://www.inc.com/profile/xero-shoes
Steven and Lena love to show what the company looked like at the beginning, back in late 2009, in this artist's rendering: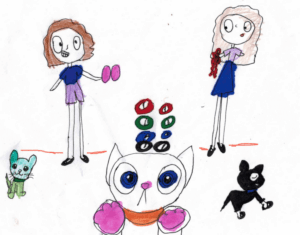 Sashen points out, "This is not totally accurate… we only had 2 cats."
But the company did start on the floor of a corner of a spare bedroom, making DIY barefoot running sandal kits that quickly sold to customers in more than 90 countries.
Things have changed quite a bit since then (no more cats 🙁 ) … Xero Shoes still sells the do-it-yourself sandals, but the product line now includes casual and performance shoes, boots, and sandals that people wear for almost every imaginable activity, from a stroll on the beach to climbing Kilimanjaro, to running ultra marathons, to a night on the town, or a day on your feet at work.