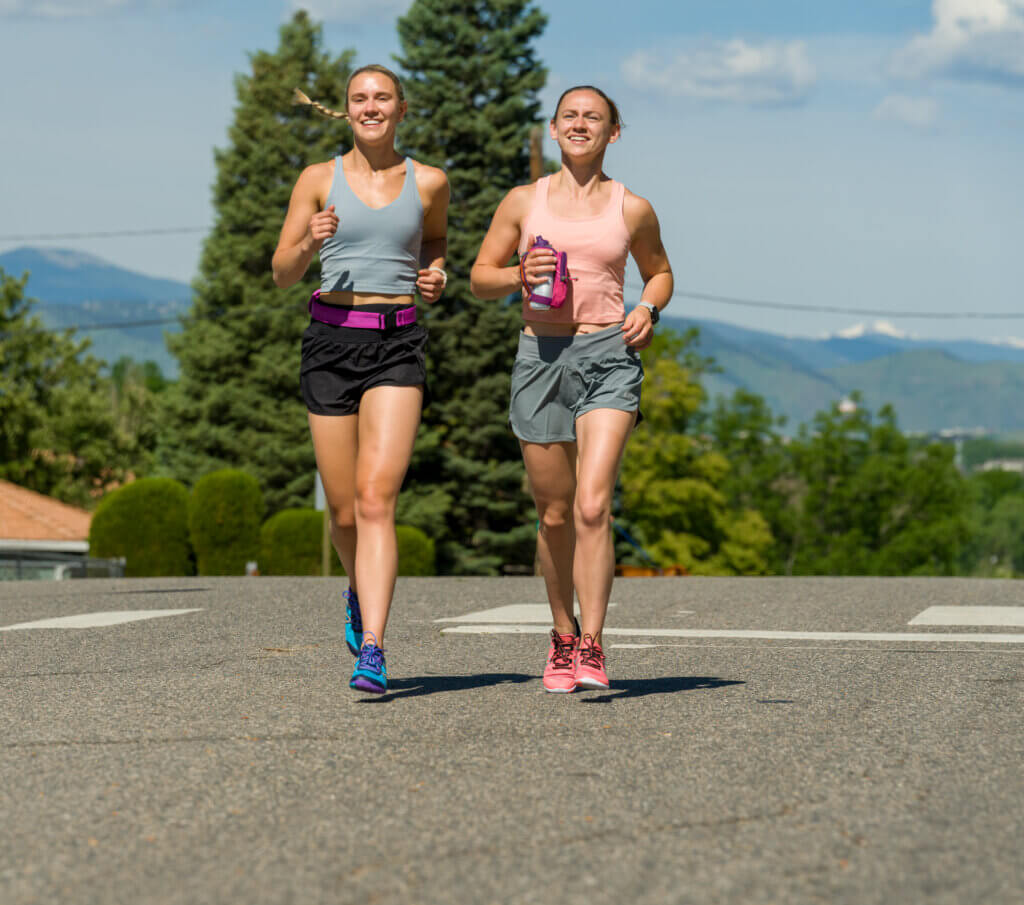 For women, running can be a powerful tool for empowerment and self-discovery. Running teaches women many physical, mental, and even social skills, when running in a group. It helps build confidence, reduce stress, and promote a sense of accomplishment and independence.
Women of all ages join running groups that can help strengthen community bonds and offer a supportive environment for self-growth. Running delivers lessons on confidence and character and provides strength in the face of adversity. 
Running is one of the most accessible activities in the world – all you need is a good pair of running shoes and proper clothing.
This article will show you how running can empower you, introduce organizations that recognize the power of running, and use running to make a difference in women's lives around the world. 
Whether you're an experienced runner or just starting out, let's celebrate the power of running to transform lives and communities.
What Factors Are Important For Women's Empowerment?
Empowerment is the process of becoming stronger and more confident, especially in controlling one's life and claiming rights.
The European Institute for Gender Equality defines women's empowerment as "the process by which women gain power and control over their own lives and acquire the ability to make strategic choices".
Several factors contribute to women's empowerment. Some of the most important include:
Access to Education
Women who have access to education are better equipped to make informed decisions about their lives. This helps them participate in the workforce, and advocate for themselves and their families.
Economic Empowerment
Women with financial independence are more likely to have control over their lives and make decisions about their futures. This can be achieved through equal pay, access to credit and loans, and job training programs.
Healthcare
Access to quality healthcare is critical for women's well-being and ability to lead healthy and productive lives. This includes access to reproductive and maternal health services.
Gender Equality
Women face gender bias in education, employment, politics, and more. Achieving gender equality requires breaking down systemic barriers and addressing gender-based discrimination.
Safety
Women need to feel safe in their homes and communities in order to fully participate in society. This includes addressing issues such as domestic violence, sexual assault, and harassment.
Representation
Having women represented in leadership roles is crucial for ensuring that their needs are met.  Empowering women to be part of decision-making processes, instead of others speaking for them, will help their voices be heard.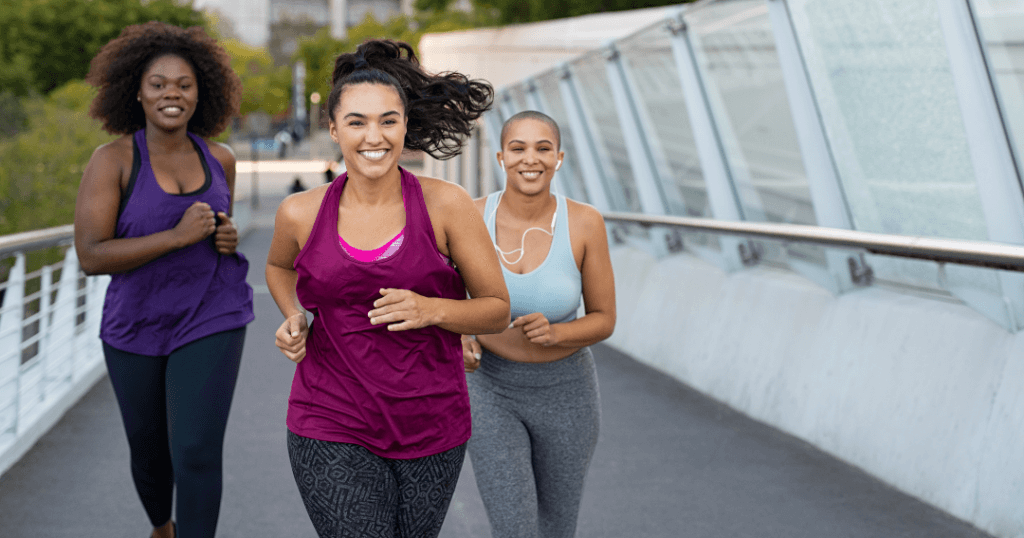 Benefits of Running for Women
Regular running can provide a wide range of mental and physical benefits for women to improve all aspects of their well-being. 
Physical Health
Many people consider running simply a way to burn calories and lose weight. However, there are many other physical benefits besides weight loss. As a cardiovascular exercise, running improves heart health while reducing blood pressure and the risk of chronic diseases. 
Builds Confidence
Completing a challenging run or race can build confidence, giving women a sense of accomplishment and achievement. Running can also boost women's self-confidence to feel more comfortable and confident in their bodies.
Reduces Stress
Running can relieve stress, providing an outlet for pent-up emotions. Running also can reduce stress by promoting the release of endorphins, which improve mood.
Improves Mental Well-being
Running can be a form of meditation and can have long-term benefits for mental health. Running a few times a week gives women a space to clear their minds and focus on the present moment.
Accomplish Goals 
Women face different challenges in life than men. To overcome  challenges, it's important for women to set goals and experience the satisfaction of achieving them. 
The same is true for running performance, which requires runners to overcome physical and mental obstacles. By setting goals, runners can create a clear action plan towards accomplishing those objectives and ultimately experience the sense of achievement that comes with meeting those goals. 
Learn Resilience
Not every run will be your best, especially if you're new to running. Setbacks may happen, but this is a great way to learn resilience. Getting better at something means getting back up after you've been put down and trying again. 
Running teaches women ways to overcome stress and bounce back from adversity – a great skill to help anyone overcome life's challenges.
Build Bonds and Community
Women's running clubs and track and field teams provide a sense of community, empowering female athletes. Being a part of the wider running community offers women a supportive social group and role models to look up to. 
Empower Other Women 
Running is a great solo activity, but most runners know the importance of having a good running community. In group settings, running helps women empower each other. Women's running groups are the perfect instance to build other women up.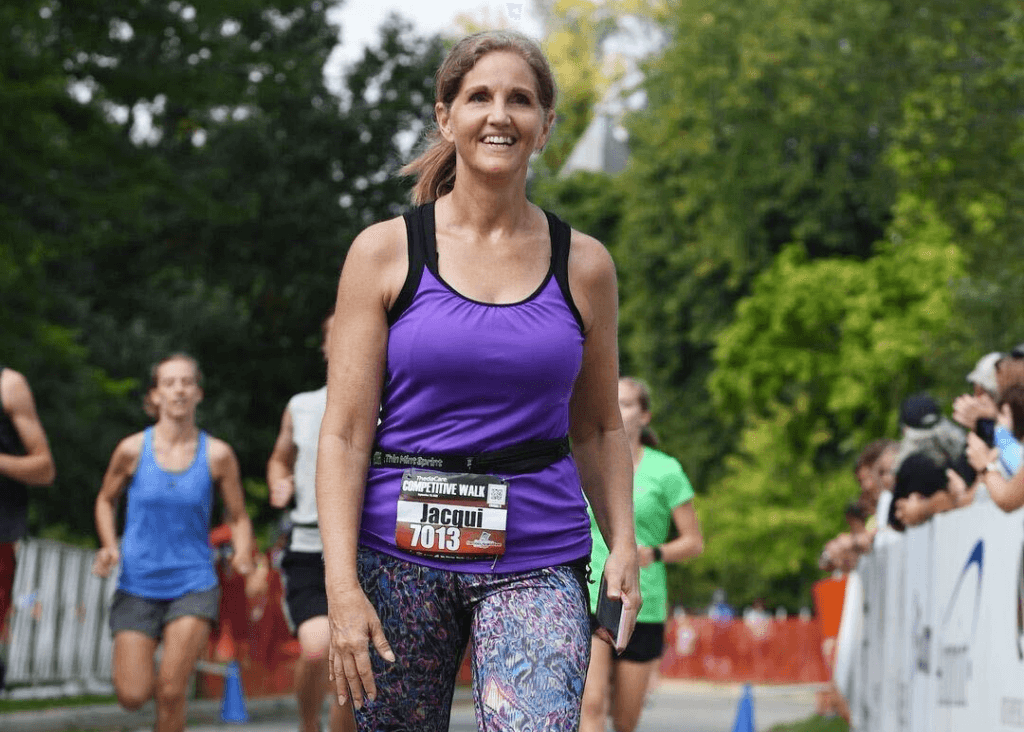 Organizations That Are Helping Females Achieve Empowerment Through Running
Here are some organizations that are empowering women around the world.
Jay Ell Alexander, Black Girls RUN! 
Jay Ell Alexander is the owner and CEO of Black Girls RUN!, an organization that empowers women of color through running in a supportive environment, with over 250,000 members across the United States. She is a public relations practitioner committed to giving back to the local community through her passion for running, health, and fitness. 
What is the goal of Black Girls RUN?
"Black Girls RUN! started as an online blog in 2009 as a way to empower Black women to participate in the sport of running events across the country and provide spaces for women to come together on their fitness journey. Through the power of running, community and empowerment, we bring awareness to the health disparities in the Black community. We dispel the myths that black women are unhealthy and not physically active."
How does running help empower black women to overcome challenges they may face?
"There's a huge misconception that black women don't run. Black Girls RUN! brings women together all over the country to increase representation on the pavement. We are moving and motivating women to change the narrative of what running and health looks like for black women. We provide inspiration and serve as a resource for women to become the best version of themselves. Black Girls RUN! aims to create healthier communities to change the health statistics for black women and create healthier women for generations to come."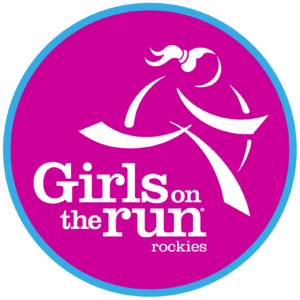 Girls on the Run Rockies
Girls on the Run Rockies inspires girls of all abilities to reach their full potential through running and team support. They teach life skills such as self-confidence, resilience, and connection with peers. Dedicated volunteer coaches combine physical activity with these lessons to empower girls and create a strong community. We interviewed Lauren Pietrek, Development and Marketing Director for Girls on the Run Rockies. 
What is the goal of Girls on the Run? 
"Girls on the Run is a nonprofit organization with a mission to inspire and empower girls in 3rd – 8th grade through the power of running. Our program combines training for a 5K event with a research-based curriculum that focuses on developing essential life skills and fostering positive self-esteem. The goal of Girls on the Run is to equip girls with the tools they need to navigate challenges, build healthy relationships, and boldly pursue their dreams. We create a supportive community where girls can embrace their uniqueness, celebrate their strengths, and grow into strong, capable women."
What role does running play for girls to overcome challenges and learn new life skills as they grow older? 
"Girls on the Run uses running as a tool to build confidence and teach life skills by setting and achieving running goals, fostering a growth mindset, and employing a curriculum that addresses topics like self-care, empathy, and teamwork. Through running, girls develop resilience, self-belief, and a sense of accomplishment. Our program creates a supportive environment for girls to learn and practice important life skills while running with their friends. We believe the finish line of our 5K is just the beginning of a lifetime of self-confidence."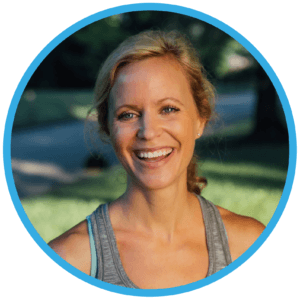 Whitney Heins, founder of The Mother Runners
Whitney Heins is a lifelong runner, and founder of The Mother Runners, (a resource for moms who run), VDOT-O2 certified running coach, 2:54 marathoner, host of The Passionate Runner podcast, and most importantly, a mom of two beautiful, crazy kids.
What is the goal of The Mother Runners? 
"My mission is to help fellow moms be their best selves on and off the road. When we do something that makes us feel good about ourselves, that positive impact has a ripple effect in all we do. Running is good for our physical and mental well-being and teaches our kids valuable lessons like how to take care of yourself and work hard towards your goals."
How does running empower mothers to overcome challenges they may face in their daily lives? 
"Running helps moms see that they are stronger than they realize. This ability to have patience and persevere no matter what carries over into challenges moms face big and small—whether it's withstanding another toddler meltdown or facing serious illness or tragedy related to our children. It also recharges us so we can face each day fresh."
In addition to free training plans and customized coaching, she provides a community for sharing experiences and pursuing fitness goals.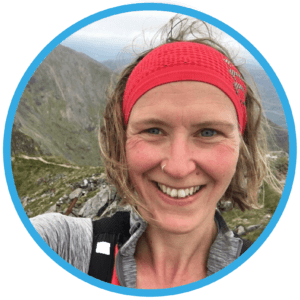 Keri Wallace, Girls on Hills
Keri Wallace is the co-founder of Girls on Hills, an organization that empowers women with the skills and confidence to become independent in the mountain environment. Girls on Hills provides guided runs in the Scottish Highlands, Lake District and Snowdonia and are aimed at women who want to break free from road running and run to the mountains. 
What is the goal of Girls on Hills?
Girls on Hills aims to empower women with the skills and confidence they need to become more independent in the mountain environment. We hope to encourage more women to participate in the sport of trail and mountain running to reap the health and well-being benefits associated with exercising in wild spaces and time spent in nature. We use experienced female running guides to teach navigation, movement and mountain safety skills on upland terrain, from trail to technical mountain ridges. We believe that 'empowered women empower women' and our guides are instrumental in helping us inspire women to try new things. We also advocate for greater understanding of inequities and better support for women to help reduce the gender gap in participation in ultra-distance running and skyrunning in the UK.
In Your Opinion, how does trail running empower women to overcome challenges in their daily lives?
Trail running is liberating! – journeying through nature with all you need on your back, making decisions about your route, destination and safety. This kind of control can often be lacking in people's lives, and today's health and safety culture breeds a level of risk aversion that is limiting and sometimes debilitating. At Girls on Hills, trail running is about understanding and stretching what your body (and mind) can do! Often women find they are far more capable than they expected. Another kind of empowerment is learning new skills, such as self-navigating or moving efficiently over technical terrain. We find that running in a supportive and like-minded group can help build community and self-esteem, but running solo can build resilience and self-confidence. All these elements of empowerment are powerful and extend beyond running into lives at work and at home.
Inspirational Female Runners Who Changed History
Here are some iconic women runners whose effect empowered others and changed history for generations of women after them. Their confidence and resiliency paved the way for future female runners. 
Wilma Rudolph
Wilma Rudolph overcame polio and scarlet fever as a child to become one of the fastest women in history. As a young girl who struggled to walk, she truly defied the odds as the first woman (and first African American woman) to win three gold medals in track and field at the same Olympic game. 
At the 1960 Summer Olympics, Rudolph won gold in the 100- and 200-meter sprint events and the 4 x100-meter relay. Her incredible life story has inspired generations of women long-distance runners.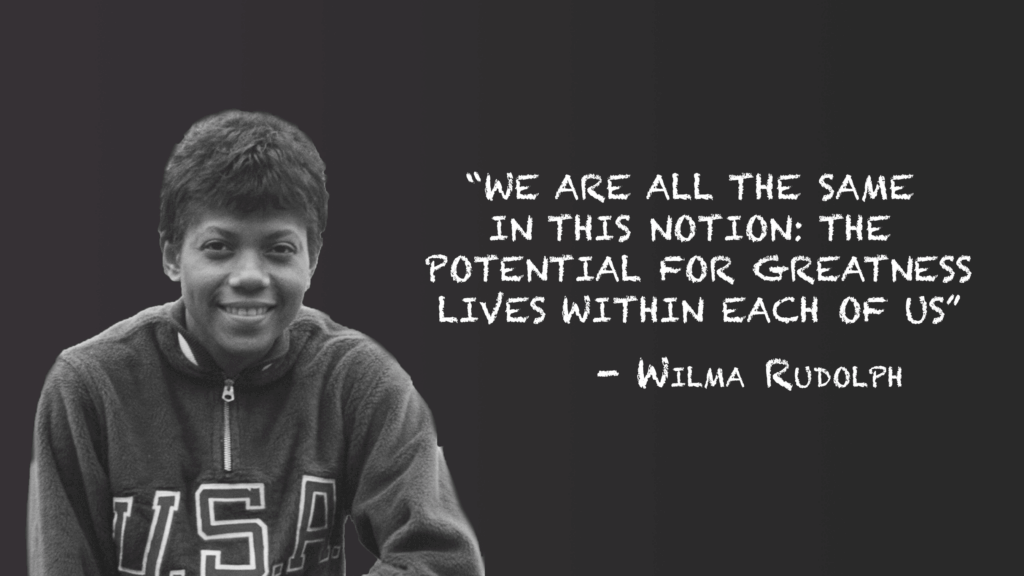 Kathrine Switzer
Before the Boston Marathon allowed female participants, 20-year-old Kathrine Switzer showed up to the race in 1967. She signed her entry form under the alias "K.V. Switzer" as the first woman to win a competition. 
Despite being physically pulled off the course by multiple men, including the race's director, Kathrine became the first woman to enter and finish the marathon with an official race number. 
Switzer is credited for changing the sport of running by opening up opportunities for female long-distance runners. Today, she continues to pave the way for other female runners, inspiring women across the globe and winning the New York City Marathon in 1974 with a time of 3:07:29.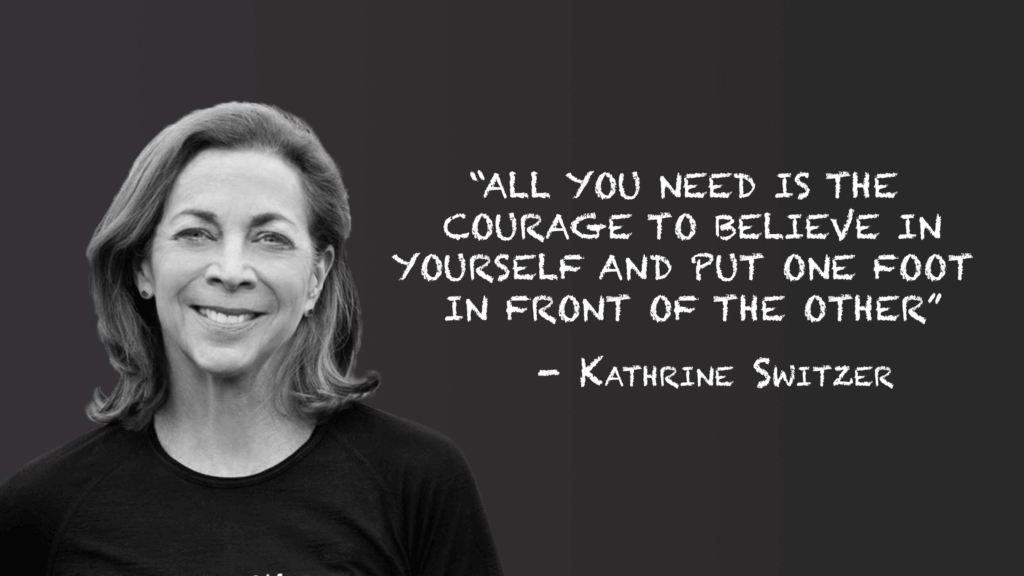 Joan Benoit Samuelson
Joan Benoit Samuelson is an iconic American runner and olympic gold medalist. 
She won a gold medal as the first-ever women's marathon champion at the 1984 Olympic games – just 17 days before she had knee surgery, calling into question whether she would participate in the event. On race day, she was able to push from within, taking the lead at Mile 3 and never giving it back. Her stunning effort is commended and inspired by long-distance runners.
Joan also held the fastest time for an American woman at the Chicago Marathon for 32 years after winning the race in 1985.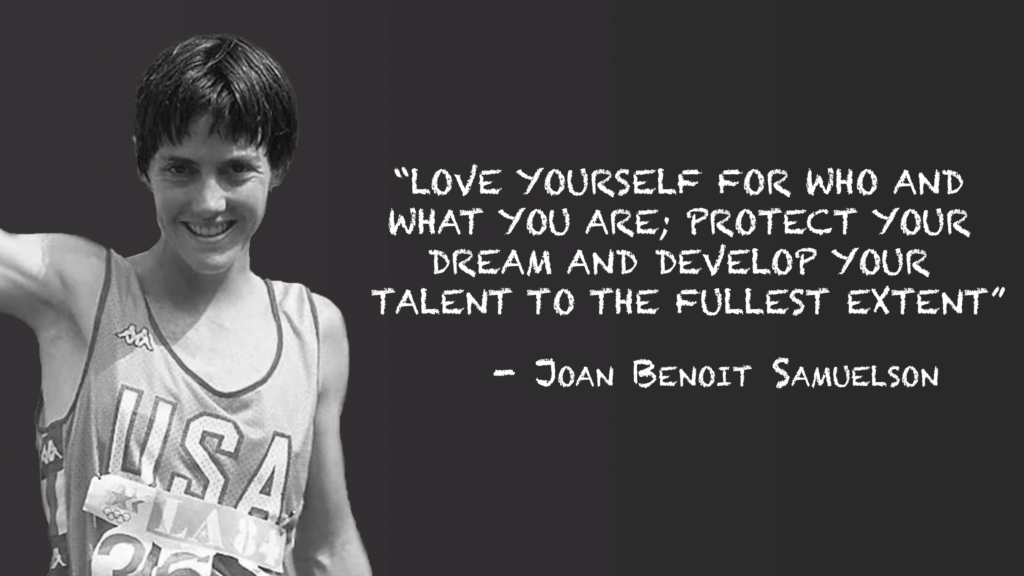 All You Need Is a Good Pair of Shoes
The good news is, you don't need much equipment to run – just a pair of running shoes on your feet. Your running journey begins by finding a pair of shoes that are both durable and comfortable – shoes you can wear for (literally) thousands of miles!
Barefoot running shoes prioritize natural movement and allow your feet to move and flex as they were designed to, while still offering a layer of protection. A barefoot feeling allows your feet to get the ground feedback you need to become a confident, empowered runner. 
Barefoot shoes have important characteristics that let your body do what's natural, and let your feet bend, flex, move, and FEEL. Compared to traditional running shoes, Xero shoes have:
No heel lift 

A wide toe box to let your toes spread

No unnecessary cushioning

An extremely flexible sole that gives you protection but is thin enough to let the nerves in your feet safely FEEL the ground and be more connected to the earth.
When it comes to running shoes, durability and style should go hand in hand. That's why we offer a range of options that not only look great but can handle any terrain you will be running on. 
Women's road running shoes:
Women's trail running shoes:
All of our shoe models are backed by a 5,000-mile sole warranty. 
In Closing
Running is used as a tool for empowerment and self-discovery for women across the globe. It is an activity that pushes you to become resilient, confidence dedicated, and motivated. 
Through the work of these incredible nonprofits, women are being empowered and supported to reach their full potential through running. It is up to all of us to continue this work and support women's empowerment in our communities and beyond.
There are many women's running groups that you can find locally to join that welcome all abilities. You get experienced coaches and build a sense of community through running. 
Whether you run in a group or solo, we hope women use running as an activity of empowerment to be the best versions of themselves.