"Born to Run 2" Authors, Christopher McDougall and Eric Orton, Reveal First-Ever Footwear Collaboration
Xero Shoes Designs Exclusive, Limited Edition Trail and Road Shoe Colorways 
April 12, 2023 (Broomfield, CO) – Christopher McDougall, bestselling author of "Born to Run," and Eric Orton, co-author of "Born to Run 2" and world-renowned running coach, reveal an exclusive footwear collaboration with the barefoot-inspired footwear brand, Xero Shoes. 
The 2009 publication of the bestselling book, "Born to Run", which sold more than three million copies, catalyzed the natural movement and minimalist running idea. Since then, McDougall and his coach/co-author of "Born to Run 2", Orton have never endorsed a shoe or shoe brand… until now. 
On April 13, Xero Shoes releases two exclusive, limited edition co-branded versions of  McDougall's and Orton's favorite running shoes: the Mesa Trail II trail shoe and Zelen road running shoe. The shoes will be available www.xeroshoes.com/born-to-run. 
"I've tried every natural shoe on the market for the past ten years, and Xero Shoes are the only ones I've ever put on my feet and forgotten they were on," says McDougall. "And I'm not easy to please… I put these shoes through hell. I used the road shoes on trails and the trail shoes on roads, bashing through creeks and climbing tough scrambles. 600+ miles later, both pairs are looking terrific. That's when I knew Xero Shoes were my brand."
"It all starts with the Xero Shoes' overriding philosophy and focus on natural running and movement because we are in lock step with this ethos and it is very exciting to be partnering with a company that is driven by their mission," says Orton. "Add this to the company's eclectic team of shoe industry experts, and you have a powerful combination of business principles and high-end performance shoes."  
Born to Run Mesa Trail II – Lightweight Trail Running Shoe
$119.99
"This shoe is my desert island pick if I could only have a single footwear choice. The Mesa Trail is like a bouldering shoe up top but an all terrain vehicle below with a sole so grippy it feels like an ATV tire.  I've got like 600 miles in these beasts and they show no signs of quitting on me." – Christopher McDougall

" Agility, flexibility, and durability – they have a perfect blend of natural performance and protection that my feet crave for my "everyday" trail runs." – Coach Eric Orton
Born to Run Zelen Road Running Shoe
$129.99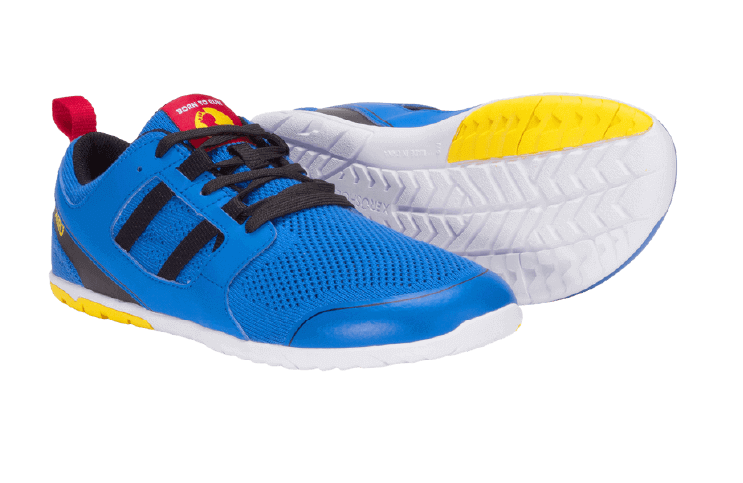 "I gotta tip my cap to Xero Shoes for creating a zero drop roadster that's terrific on trails. The Zelen is a dream on roads and trails. Handled 5 hilly miles and two creek crossings like a champ. Excellent design all around." – Christopher McDougall

"I wanted a very minimal shoe in my road running arsenal and the knit upper gives me the ideal, locked down comfort fit I need for my shorter strength runs and easy endurance runs. And the Zelen is the first shoe I grab for my everyday walking around town to get the benefits of natural performance." – Coach Eric Orton
"Christopher's book 'Born to Run' was one of the inspirations for Xero Shoes," says Sashen, CEO and Co-Founder. "Getting out of 'normal' running shoes improved my form which helped cure years-long running injuries and made me faster." Sashen, at 60, is a Master's All-American sprinter. He adds, "We're thrilled to partner with Christopher and Eric on these two special edition running shoes so more runners can discover the comfort, benefits, and fun, of natural movement."
To help runners of every skill level become healthier and happier,  Xero Shoes presents a monthly interactive, live webinar, "Born to Run Reboot" hosted by McDougall and Orton. Details at xeroshoes.com/born-to-run.
The Born to Run Mesa Trail II and Zelen feature the same specs as Xero Shoes' original models and will be available in whole and half sizes for men (6.5 to 13, 14 and 15), and women (5 to 12) on April 13, 2023. 
###