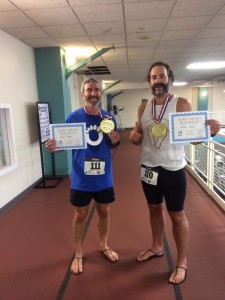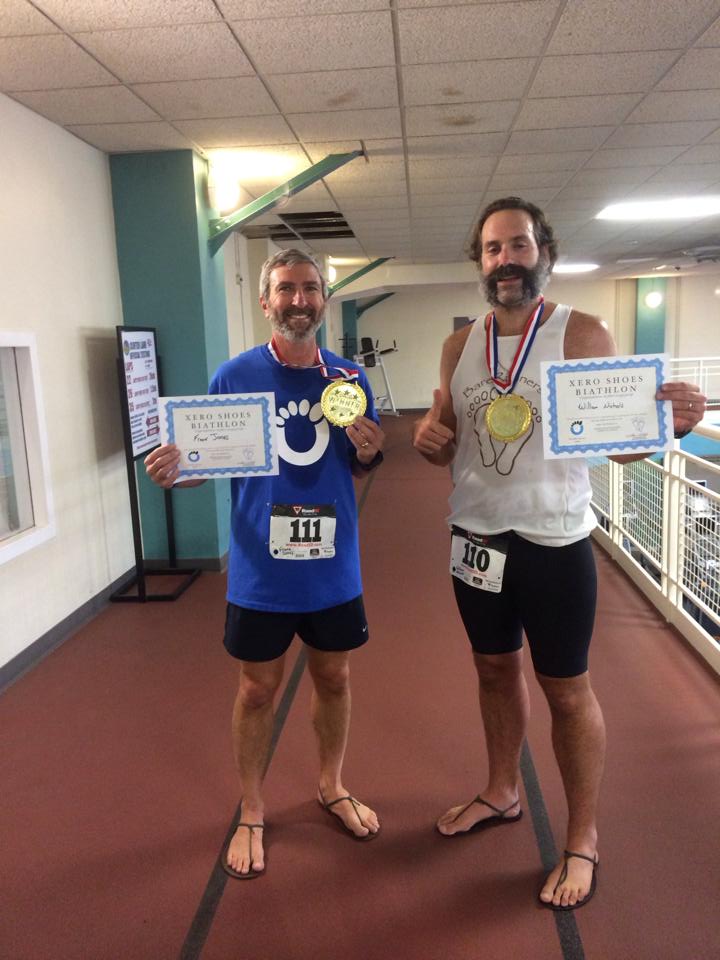 Want to run a race, but there isn't one scheduled?
Want to tackle a biathlon (running and bike riding), but there isn't one in your neighborhood?
Want to run barefoot or in minimalist shoes, but tired of people yelling, "You can't do that!" at you?
Getting too cold for racing in barefoot-style sandals?
Well, Frank Jones and William Nichols solved all those problems: They made their own Xero Shoes race!
Here's the report:
Inaugural Xero Shoes Bialthlon a Resounding Success
by Frank Jones, Bare Runners News
Scott Air Force Base, Illinois
As they made their way to the medal ceremony, the sheer joy of victory remained etched in their faces. William Nichols and Frank Jones had just finished first and second in the Inaugural Xero Shoes Biathlon, sponsored by BareRunners.
The event, which took place today at Scott Air Force Base, Illinois, was the brainchild of BareRunners founder, William Nichols. "Southern Illinois is a great locale for a variety of races and athletic events," he told this reporter. "The goal of today's race was to highlight and emphasize the healthy running benefits of minimalist running" or "barerunning" as Nichols and his fellow barefoot enthusiasts like to call it. To participate in today's run, competitors were required to wear Xero Shoes. "The BareRunners love these shoes, and we encourage others to 'feel the world' with us!", Nichols said.
The Xero Shoes Biathlon was held entirely indoors at the Scott AFB Fitness Center. It began with a grueling five-mile sprint on stationary bikes. From there, it was a quick transition upstairs for a tough three-mile dash…52 mind-numbing laps around the indoor track! Spectators stood in awe as the competitors completed this epic battle. In the end, Nichols pulled ahead of Jones for an overall first-place finish. "I may have finished first," he said, "but we are all winners!"
Jones, a retired USAF colonel, and today's runner-up, praised the event sponsors: "I'd like to thank [them] for putting on a great event!" He also credited his training partner, William Nichols, "for training with me, for always keeping me motivated, and for encouraging me to step out of my comfort zone."
Scott AFB Exercise Physiologist, Mr. Al Bromley, credits Nichols and Jones for the blossoming minimalist movement at the air base. "I see these guys every day, and I'm amazed at what they accomplish in these Xero Shoes!" he exclaimed. Bromley has been a strong supporter of the BareRunners, offering support and advice as more and more athletes kick off their shoes and run barefoot or minimalist.
Congrats to both William and Frank for an impressive race!
Here are some more photos of the triumphant duo.