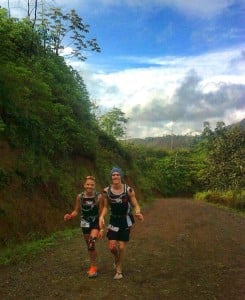 Want to run with the Tarahumara (the Mexican tribe featured in Chris McDougall's bestseller, Born to Run)?
Well, if you can't make it to the Copper Canyon, or anywhere else for that matter, here's the next best thing.
Ultra runners Jonathan Sinclair and Melissa Gosse went to Costa Rica for La Ruta 100k, arguably the hardest trail ultramarathon in the world.
About a dozen Tarahumara runners were there and Jon and Mel got to spend the better part of a week hanging out and running with them — as well as swapping huaraches and Xero Shoes, eating, drinking, and much more.
If you want to hear the story of La Ruta and the Tarahumara, join us on Tuesday, November 26th for a live video chat with Jon and Mel.
They'll be sharing pictures and stories as well as giving great tips about barefoot running, minimalist running, ultramarathon training, and anything you can think to ask about.
Click on this link to find out more about the live video chat.