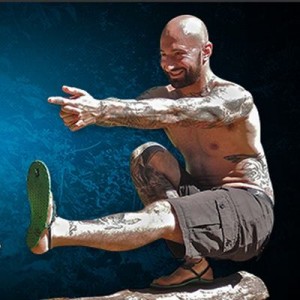 I met (online) Al Kavadlo over 3 years ago and was really impressed with what he was teaching and how well he practiced what he preached.
Al has been a big fan of Xero Shoes, sending us photos of him running through the streets of New York, across the Brooklyn Bridge, and performing all manner of impressive bodyweight exercises in his Xeros.
Al is a master of body weight training and has put together some of the best coaching I've seen on that topic… something that we both agree every runner could benefit from.
We got together thanks to Google Hangouts to have a chat. We didn't have an agenda, and didn't prepare anything in advance, and I'm sure you'll enjoy watching this conversation with Al that includes:
Strength training without equipment
Best strengthening exercises for runners
The link between barefoot running and bodyweight exercise
Can you go barefoot in New York? REALLY?
A new way to bring fun — and fitness — into your running
… and a lot more
Let us know what you think in the comments below.
And check out Al's fitness products:
Pushing The Limits — one of the best books on the essential bodyweight exercises I've ever seen. Great photos, and not just because so many of them feature Xero Shoes!
Raising The Bar — everything you can do with a pull-up bar (it's a LOT). If you're more visual, then check out the Raising the Bar DVD.
Progressive Calisthenics Workshop — based on the principles in Convict Conditioning, a classic in the bodyweight strength game.