We last left you hanging wondering which model of Xero Shoe we pack along for our different adventures. We often take multiple shoes when we travel, but the Xero Z-Trek sandal always makes the cut due to its versatility, low maintenance and extreme light weight.
The Z-Trek is a fantastic sandal for river and water sports. The design keeps the shoe snugly where it belongs (instead of washing out to sea) and it dries within minutes, making water-to-land transitions a non-event. We're avid stand-up paddle boarders and have hiked our boards (SUPs) to remote waters in many parts of the world, paddling places like New Zealand, Costa Rica, South Korea, Italy, the Mississippi River, Hawaii and the U.S. Pacific Coast. Wherever we paddle, there is one commonality: You must first get to the water. Whether it's crossing a hot parking lot covered in broken glass, a quarter mile of blistering-hot sand, or carrying our paddle boards down a large field of lava rock, our Z-Trek sandals are the perfect companion to get us to the water.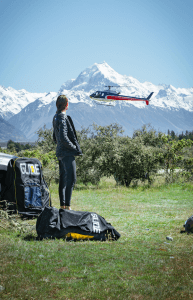 Last June, we took our SUPs on a five-day, supported run on the Green River, through Desolation and Gray Canyons. It was an 88-mile run down one of the most remote areas in the lower 48 states. We were surrounded by spectacular scenery devoid of any technology. (Especially so, because the river ate my camera phone on day one.) There were hours of stillness and quiet on the river as it meandered through the deep canyons of the Colorado Plateau, with the occasional adrenaline produced by the roar of sixty Class I-III rapids.
Our tent, clothing, food and water were transported by experienced guides on small, solo, inflatable rafts. Many of the rapids had only a few safe lines to take. Some rapids only had one line– and that line changes substantially depending on the volume of water rushing down the canyon. Several times during the five-day expedition we paused upriver of the rapid and hiked out to overlook our upcoming challenge. We scrambled through hot sand and over red sandstone and rock, always watching for small cactus plants and rattle snakes. Then we'd put on our special whitewater life jackets, quick release leashes and helmets for the duration of the rapid.
Our mornings were spent striking camp and then navigating downriver for a few hours. We'd break for lunch by finding a calm section of river and circling our SUPs and rafts to distribute food and swap stories. By early afternoon each day we made our campsite for the evening. Campsites are non-developed, governed by a "leave-no-trace" rules and ethos. Since they are taken on a first-come basis, we'd rise early each morning to ensure our party beat the other expeditions downriver to the next camp.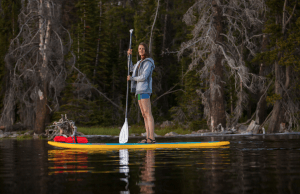 Once camp was made, we explored the surrounding dry canyons and high desert topography. Or pass time on the river's edge in our tents, hiding from blood-thirsty mosquitos.  Occasionally we'd see another party float by on their journey to their evening camp.
Paddling the Green River for five days was an amazing experience and something everyone should consider doing.
This weekend we're traveling to Moab, UT to compete in a paddle board race on a seven-mile section of the Colorado River. It's our first race of the season. Typical of most SUP races, we have a running start into the river (while carrying our paddles and boards), paddle for about an hour and a then jump off our boards and run a short distance across a rocky shore and parking lot to the finish line. For the past few weeks we've debated which paddle boards to take with us; as each race board has its advantages in different conditions. But our footwear will be the Xero Z-Trek sandal – for obvious reasons: This race seems to have been designed around the functionality that we love about the Z-Trek. Water? Rocks? Running? Bring it.
See pics and race results this Sunday by following us @WildAcroDuo.
Until next time,
Chris & Roxy