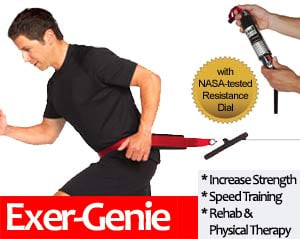 I know, I know… "Exer-genie" sounds like the name of a fitness gadget that women in the 1950's would have used.
But don't let the name fool you. This is one serious piece of equipment, all rolled up into a tiny, travel-friendly, package that anyone of any fitness level can use to get stronger and faster.
The Exer-Genie has been used by Olympians and professional sports teams for decades. And, frankly, given what a gadget geek that I am (especially fitness gadgets), I can't  believe that I only recently discovered it.
Let me show you a quick video of how my training partner, World-champion sprinter Cathy Nicoletti, and I now use the Exer-Genie as part of our sprinting training.
In short: we'll do resisted runs with enough resistance to slow us down no more than 10%, usually increasing the resistance with each run, and then finish with a non-resisted run.
We're planning to integrate more heavy-resistance running (for improved drive phase performance), as well as resisted walking lunges and bounding. Sometimes we'll use the Exer-Genie at the end of a speed workout. Other times we do an entire workout with the Exer-Genie.
There are essentially 2 models of the ExerGenie that you'll be interested in: The Classic system with a shorter rope for strength training (you can practically replace a gym's worth equipment with this), or the long-rope Speed system for doing resisted running (and jumping, bounding, lunging, etc.). If you're into suspension training, like with a TRX, you'll want to look at the Dynamic Life system as well… a variation of the short rope system.
The folks at ExerGenie are INCREDIBLY helpful and committed to your fitness. If you have any questions, just give them a call (number is at the website). Tell 'em we said Hi! Find out more about the Exer-Genie here.
The content of this post does not constitute and is not intended to be a substitute for professional medical advice, diagnosis or treatment. Always seek the advice of a physician or other qualified health provider with any questions or concerns you may have about your health or a medical condition.