Xero Shoes is a company that has come a long way. Looking back, we have come quite a long way as runners and adventurers. As we've grown, we've realized what a long way we've come WITH our Xero Shoes. We ordered our first pair of Xero Shoes in 2013 after reading the book Born to Run and wanting to get more involved with running minimalist. At that time we had both caught the running bug, and were running in our super smelly vibrate 5 fingers!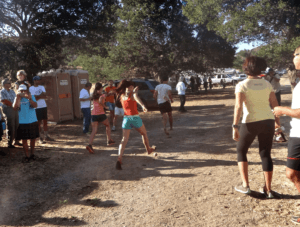 The first pair of Xero Shoes we ever wore were the 4mm DIY sandals and we wanted to get trained up in them for our first ultramarathon together. Our biggest hurdle? It was winter in Edmonton, Alberta, Canada, and our race was only 3 months away. We had a few chilly runs in the cold with numb toes, to say the least. We managed to get enough training in, as we finished the Born to Run 100km race that we had planned! Later that year, we also ran a 50 mile ultra in Fernie, BC (Rocky Mountain style running!), a 100 miler in South Dakota (pretty flat, but HOT), and a 100km race in Costa Rica (where we legitimately ran with Tarahumara runners from Mexico!!). All of these were done in either the 4mm or the 6mm DIY sandals. So if any of you are still wondering "can you run in these?" Yes, you can run for miles and miles!
Ultimately, we ended up being the first runners to complete one of 4 Deserts' 7-day, 150 mile stage races wearing sandals.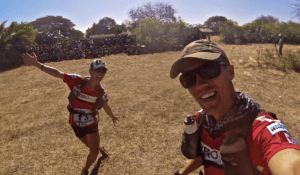 A year or two later we were living in Chile and Xero Shoes had just released their Z-Trek sandals. This was perfectly timed as we had two ultras planned that year in Chile, yet both had a lot of mountain running on rugged terrain, so we were super excited to wear the Z-Trek sandals at it gave you a bit more stability when on gnarly or muddy surfaces. Very soon after the Z-Trek was released, they launched the Z-trail, and we realized this one was our unicorn. The Z-style rig with a tiny bit more width of sole made it a primo piece of footwear for long trail ultras. We ran a 100 mile race down the entire length of the Florida Keys and with how hot and humid it was, it was super nice to have that tiny bit thicker sole for the 27 hours of pounding. We weren't quite sure they would ever make the jump, but in 2016 Xero Shoes released their first actual shoe. While the first styles weren't really built for running, we were excited to see where it lead. Low and behold, it shortly led to the release of our single most favorite shoe (ever): the Prio. With an absolutely incredible fit, a slick look, and the comfort, it's by far the best shoe we've ever put on our feet. I wore my first Prio for a wet and muddy 50km ultra near Seattle, with only two training runs to test them out. Not a single blister and they performed like a dream! It's interesting how when you buy a shoe that just fits…you don't have to "break them in."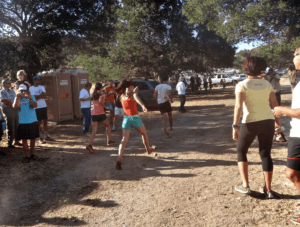 The latest big win for us was when Xero Shoes took the Prio and beefed it up a bit to make the TerraFlex, an athletic shoe with a bit gnarlier treads and a tougher upper. It's pretty much everything we could have asked for in a perfect Prio… but made more for tough trail running. We've run races in the Canadian Rockies with these, over in a Morocco, and all over the US where we can find good trails! There have been a number of styles that Xero Shoes has launched that we love as well, but these were the keystone pieces of footwear that really progressed with us along our ultrarunning journey and we look forward to seeing what they'll come up with next! 🙂
–Mel & Jon

The content of this post does not constitute and is not intended to be a substitute for professional medical advice, diagnosis or treatment. Always seek the advice of a physician or other qualified health provider with any questions or concerns you may have about your health or a medical condition.