Broomfield, CO (1st May 2023) –  Xero Shoes, a worldwide natural footwear company, is thrilled to announce an even better customer experience in the UK market with the takeover of XeroShoes.co.uk. Customers can now browse and buy a broader selection of Xero Shoes, and will have dedicated customer support for the UK.
XeroShoes.co.uk had been operated by an authorised UK dealer, Silent Running Ltd. On May 1, 2023, the company behind Xero Shoes (Feel the World, Inc. based in Colorado, USA) will be taking over the domain with a freshly designed and optimised site.
Benefits for UK Xero Shoes' customers include:
A more robust, better product assortment (also available on

Amazon.co.uk

), including new colours and more women's styles 

Additional sizing for men and women (Xero Shoes will now offer half sizes in the UK)

For the first time in UK, youth styles and sizes are now available 

Immediate access to Xero Shoes' sales and new product launches 

Direct assistance from the Xero Shoes Customer Happiness Team for faster, more convenient support
"The UK has been one of our top-performing markets for over 10 years, so we're thrilled to provide a much improved and expanded experience for our UK customers," says Steven Sashen, Xero Shoes CEO. "We look forward to making it easier for our UK audience to experience the comfort, benefits, and fun that our naturally-inspired shoes, boots, and sandals offer."
After launching XeroShoes.eu in late 2021, this international launch marks an exciting new chapter for Xero Shoes and its commitment to providing comfortable, high-quality footwear for people of all ages and lifestyles.
Customers in the UK can purchase shoes on www.XeroShoes.co.uk and www.XeroShoes.uk.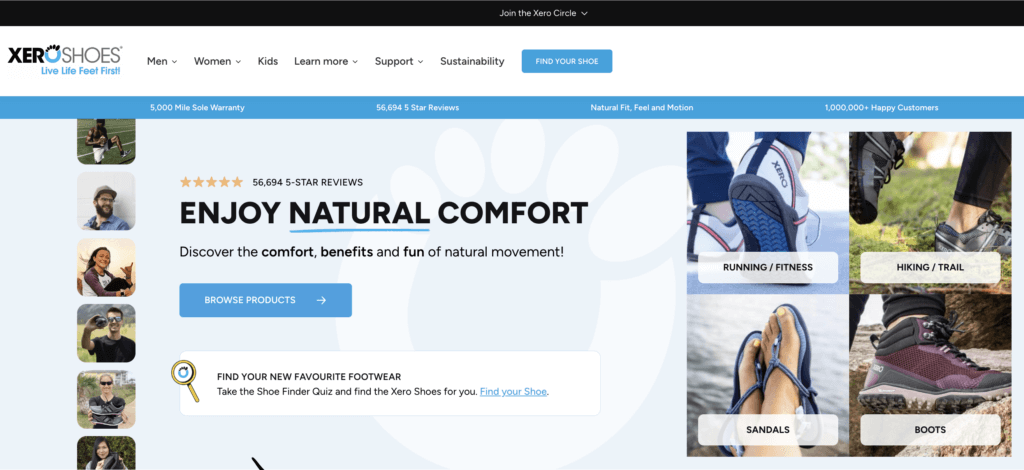 ###
ABOUT XERO SHOES
Xero Shoes was founded in 2009 by husband and wife co-founders Steven Sashen and Lena Phoenix in a spare bedroom in their house. The company started with a simple "DIY sandal kit", assembled by Sashen and Phoenix, who appeared on ABC's hit reality-business show, Shark Tank in 2013, where they turned down a $400,000 investment offer. Since then, the brand but has evolved into a complete line of more than 39 casual and performance shoes, boots, and sandals. Xero Shoes designs barefoot-inspired footwear that lets your feet function the way nature intended while giving you the protection and style you're looking for. The mission is to help people experience the comfort and benefits of natural movement footwear so they can "Live Life Feet First". Xero Shoes expanded to Europe in November 2021 and UK in May 2023, and has customers ages 2-92 in 97 countries who wear their shoes for every occasion and activity.