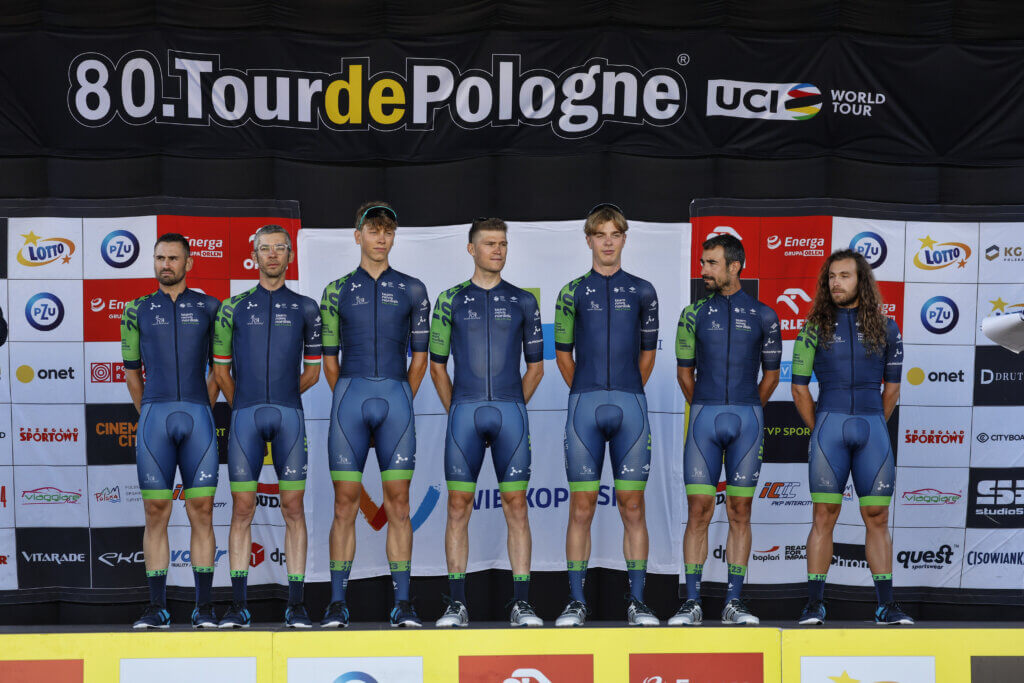 Xero Shoes Partners with Team Novo Nordisk through 2024
Barefoot-inspired Footwear Benefits both Athletes and Staff
(Broomfield, CO) August 8, 2023 –  The world's first all-diabetes professional cycling team, Team Novo Nordisk, has partnered with Xero Shoes as their official off-bike footwear.
Cyclists wear rigid sport-specific shoes while riding, but off the bike comfortable footwear that allows for a natural range of motion in the feet and toes could benefit riders. For example, according to Dr. Sarah Ridge's research, walking in minimalist shoes has been shown to build foot strength as much as doing an 8-week foot strengthening exercise program. Xero Shoes' wider, foot-shaped toe boxes and flexible soles could help with active recovery, whether that's for riders after a day of training or racing, or for their support staff who are on their feet all day.
"We're extremely pleased to be working with Xero Shoes," said CEO and Co-Founder of Team Novo Nordisk, Phil Southerland. "Xero Shoes are an up-and-coming American brand and with their ethos and the thought that goes into their whole design and manufacturing process, it's a perfect partnership for Team Novo Nordisk."
"We're thrilled to help Team Novo Nordisk not only perform better on their bikes by integrating our footwear into their lives but also to spread their inspiring message of resilience and determination," says Xero Shoes CEO, Steven Sashen.
Adds Southerland, "It's important for us as a team to work together with partners who share our goal not only to inspire, educate and empower but also to stay true to the natural aspects of performance and we feel that Xero Shoes will be a great fit for us."
With a shared commitment to promoting health, wellness, and athletic achievement, Xero Shoes and Team Novo Nordisk aim to redefine what is possible.
Team Novo Nordisk's only US athlete, Logan Phippen, has raced on the team for the past seven years, two years at the WorldTour level with the pro team and five years on the development team. Phippen was diagnosed with Type 1 Diabetes at 24, and with the guidance of his medical team, was back on the bike within a week.
###
ABOUT XERO SHOES
Xero Shoes was founded in 2009 on the floor of a corner of a spare bedroom by husband and wife co-founders Steven Sashen and Lena Phoenix, offering a simple "DIY sandal making kit". Today the company offers a complete line of 39 casual and performance shoes, boots, and sandals. Xero Shoes has customers ranging in age from 2-92 in 97 countries who wear their shoes for every occasion and activity. Xero Shoes' barefoot-inspired designs let your feet function the way nature intended while giving you the protection and style you're looking for. The company's mission: Providing the comfort and benefits of natural movement footwear so people can "Live Life Feet First".   
ABOUT TEAM NOVO NORDISK
Team Novo Nordisk is a global all-diabetes sports team of cyclists spearheaded by the world's first all-diabetes professional cycling team. In 2012, Phil Southerland, co-founder and CEO of the team, and global healthcare company Novo Nordisk came together to create Team Novo Nordisk, based on a shared vision to inspire, educate, and empower people around the world affected by diabetes and promote a healthy and active lifestyle. For more information, visit www.teamnovonordisk.com.