We announced our first closed-toe shoe in October 2016, the Hana. The Hana is mostly a "men's" shoe, even though there are LOTS of women who wear it.
Well, we're thrilled to announce the "sister" to the Hana… the Lena.
And, yes, technically the Lena is a "women's shoe," but if you're a man with a narrow foot, or are smaller than a Men's size 6.5, the Lena could be just right for you. (What makes a shoe "men's" or "women's" is a combination of typical shape differences — women's shoes are a bit narrower, have a thinner heel, have a slightly higher instep, for example).
The Lena comes in 3 colors for the Spring of 2017:
| | | |
| --- | --- | --- |
| Navy / Silver | Sand / Black | Black / Tango Red |
What will you do in the Lena?
Well, it is a casual shoe. But it's also built on our FeelTrue® outsole base, the same one we use for the Z-Trail. So, technically, it'll handle more than just a trip to the coffee shop.
And, like all our shoes and sandals, the Lena is super flexible, zero-drop, low-to-the-ground for balance and agility, and supports true natural movement. And the sole is backed by our 5,000 mile sole warranty.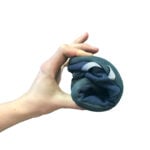 Oh, and if you're wondering, Yes, we did name the Lena after Xero Shoes' co-founder, owner, and COO, Lena Phoenix.
Live Life Feet First!