From a big picture standpoint, pregnancy is a time of growth and change.  The anatomy of a mother's body is rapidly adapting to the projected growth of the fetus (things like a widening pelvis and ribcage, changes in spinal curvatures, stretching of abdominal tissues, and shifts in the center of gravity).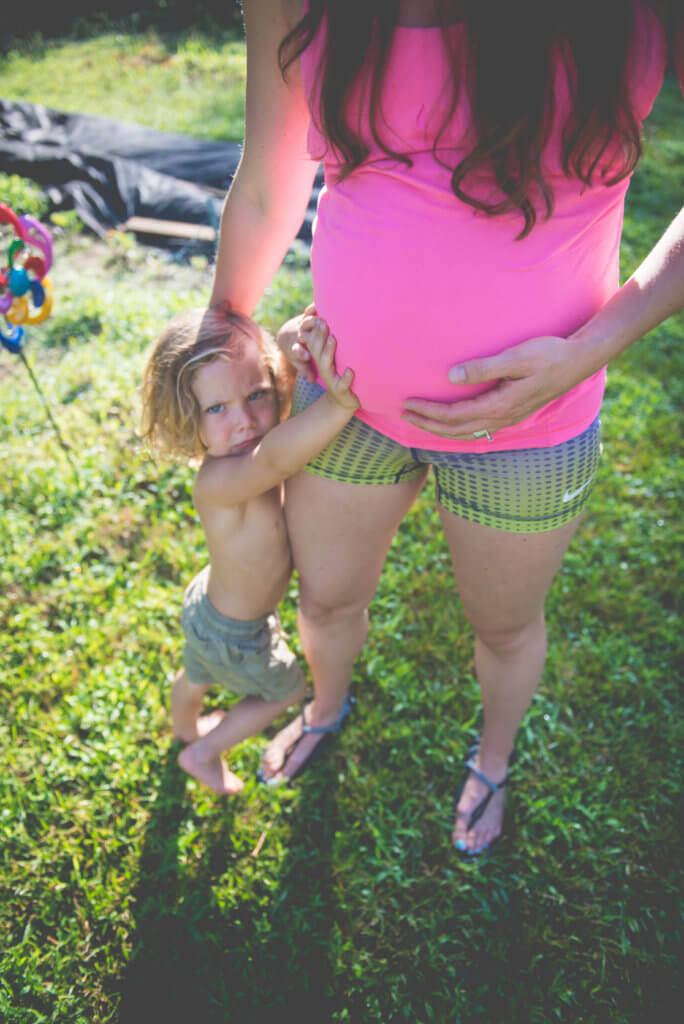 A lot of the changes happening are credited to relaxin, a hormone that is found in numerous tissues and systems throughout the body, but increases during pregnancy and breastfeeding and acts to relax tissues.
One of the changes that many women experience during pregnancy is a change in shoe size.  Rather than lamenting this perceived inconvenience, I think it's a perfect opportunity to take advantage of the body's changing physiology.
Feet that have been convinced to look like shoes rather than feet often have an uphill battle in regaining their natural shape, flexibility, and strength.  But when relaxin is present, the body is more amenable to change. We can take advantage of this and invite our feet along for the ride.
There are a few reasons why pregnancy is the best time to make the change to more neutral and natural footwear options. Here are three:
As I mentioned earlier, there's relaxin; this hormone is helping the body prepare for baby to grow as well as exit the body, which means it's making changes.  Adding in some simple foot mobilization can feel great and also may help accelerate these changes.
The shift forward in the center of gravity makes being pregnant similar to wearing high heels when non-pregnant. Doubling down on this shift forward causes most women to avoid wearing heels when pregnant. But whether they're stilettos or traditional running shoes, shifting the center of gravity even further forward than it already is during pregnancy generally feels uncomfortable in the calves, quads, and low back.
There's no better time to be barefoot. Pregnancy calls us to really be IN our ever-changing bodies. Taking some time to pause, connect to the ground, and just BE can be incredibly beneficial. From a literal standpoint: the more comfortable you are with your feet on the ground, the easier it is to stay grounded.
A few ideas to get started if you're making footwear changes while pregnant:
Go slow. There are a lot of changes taking place in your body; don't overwhelm it. Start out just being barefoot in your house; once that's completely comfortable, add in walking outside barefoot.  When you change footwear, don't wear your new shoes all day. Start with a few hours, and gradually build up the amount of time you spend in your new kicks.  Speaking of new shoes:
Your foot may continue to change sizes. As pregnancy progresses, your feet may increase in size; this might revert postpartum, but it might not. From an economical standpoint, it probably makes sense to get some multi-purpose shoes (ones you can wear to work, but also workout or go hiking in) rather than swapping out every single pair of shoes you own only to find that the size change was temporary!
Wiggling your toes is a simple way to bring awareness to your feet and get them moving in a way that doesn't typically happen while shod. Try to move the toes individually and slowly for more of a challenge.
Relaxin stays present in the body postpartum, so in the first few weeks postpartum while you are allowing your body to regulate to its new normal, you can gently work on foot and ankle mobilizations.
A time of growth and change can be scary and overwhelming.  But if we take small steps (literally), this amazing time can actually give us a much-needed boost in helping our body function at its best! 
Photos by Amanda Ditzel, Raleigh Birth Photography
The content of this post does not constitute and is not intended to be a substitute for professional medical advice, diagnosis or treatment. Always seek the advice of a physician or other qualified health provider with any questions or concerns you may have about your health or a medical condition.