Use this three-step Xero Shoes-approved process to keep your shoes looking their best. No fancy equipment needed!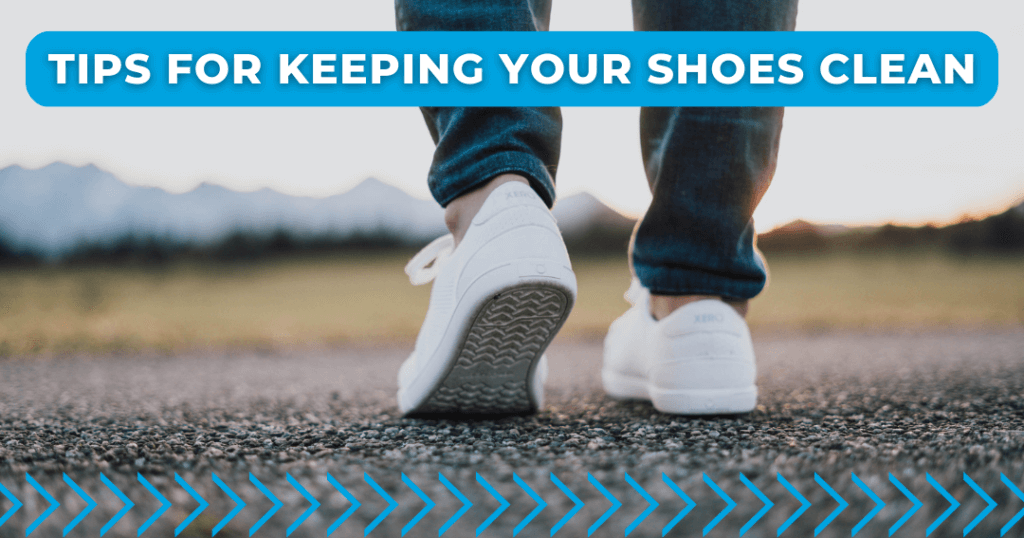 If you wear shoes outdoors eventually it's going to attract some dirt.
If Possible, Plan in Advance
If you have a brand new shoe and you want to give it the most dirt protection possible, consider using a protectant spray like Kiwi Spray or Scotch Guard.
Cleaning Advice
Here's how the designers and Customer Happiness Team at Xero Shoes recommend keeping your shoes their cleanest and brightest.

Step 1. Mix Some Dry Laundry Detergent with Cold Water
This doesn't have to be a strong solution. Two cups of water and around a teaspoon of dry non-bleach laundry detergent is sufficient. Make sure it's non-bleach, because bleach is a powerful chemical that can permanently discolor some shoes.
Mix the water and detergent in a small bucket or bowl until slightly sudsy, and you're ready to go.
Step 2. Spot-Clean Shoes with a Soft Bristle Brush
Have an old toothbrush? It works great here. So does a small plastic-bristled cleaning brush. Avoid metal bristles, which can rip shoe fabric.
Softly brush any discolored spots on the upper, sidewalls, or soles of your shoe. If you've been out in bad weather, this might be most of the shoe.
Step 3. Air Dry
Once you're done cleaning your shoes, wipe off any excess detergent and then rinse the cleaned areas gently under cold water. Let them air dry completely before wearing them again.
How Often Should I Clean My Shoes?
Here's the most important rule: The sooner you clean your shoes after they get dirty, the better. Stains that settle in over time are far harder to remove.
Want to know how to care for a specific shoe?
Check the 'care tab' on the product page for whatever style you are looking to clean.
Now that you have this info, maybe now you'll feel more comfortable slipping on our whitest and brightest shoes.
LIGHT-COLORED SHOES FOR YOU