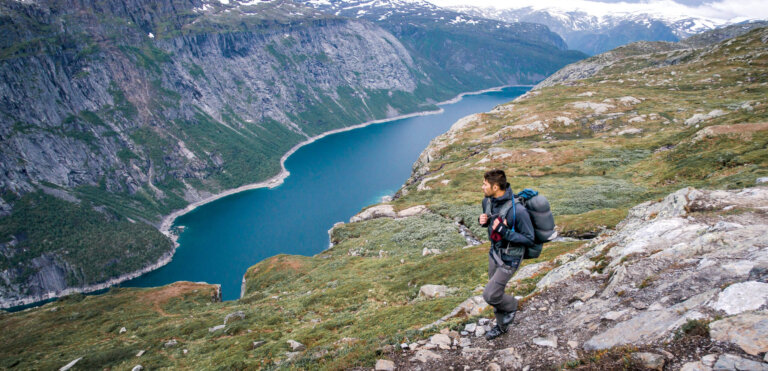 Feel great all day no matter what you're doing in the best shoes, sandals, and boots for spring and summer adventures.
Your version of "outdoors" might involve exploring different terrains, hiking a technical mountain, or relaxing by a campfire.
Either way, you'll enjoy it more in lightweight, foot-shaped shoes that bring maximum comfort while still providing needed protection from the elements. 
Here are shoes that will fit any outdoor adventure you have planned this summer.
Sunrise: For Relaxing and Recovery
You'll look forward to slipping into the cozy microfiber upper when you're making your coffee in the morning and getting ready for your adventure. Leave them at the door of your tent or the door of your house, for any easy pair of shoes to slide on quickly.
The Sunrise slip-on is the perfect shoe for kicking back and making memories.
The Sunrise is perfect for summer travel since it's our lightest shoe at 5.6 oz (M9) and 4.6 oz. (W7). You can slip them in a backpack or clip it onto your bag to wear at the end of the day. 
Wear it as a slide or a shoe. Just step right on the back of the shoe and slide your foot in.
"From the moment I put them on, the most comfortable shoe ever!" – Robyn N
"The Sunrise is so comfortable, light & easy to walk around in. I love their flexibility & versatility. I wear them on a quick trip to the store or when traveling." – Mike S
Z-Trail EV: For Ultralight Hiking or Casual Strolls
Our most versatile sandal works equally well on land or in water, if you're out hiking or taking a leisurely walk. Z-Trail EV dials in the perfect combination of lightweight protection and natural flexibility. 
Enjoy trail-ready traction from a 11mm lugged FeelTrue™ sole with a middle layer of TrailFoam to even out the bumps and the top layer of BareFoam for added comfort, while still allowing you to bend, move and flex your feet. They're comfortable and protective enough to wear all day, but at a miniscule 5.4 oz (M9) and 4.3 oz (W7), they can also be your perfect "other" footwear for an ultralight thru-hike or a river corssing.
If camping for you is something that MUST happen along a lake, river or stream, this is your sandal. 
"I'm putting them to work. I'm using them as my camp shoes on an AT section hike. They're working great!" – Gregg A
Scrambler Mid: For Hard Miles On and Off the Trail
The Scrambler Mid is the worlds lightest fully technical hiking boot. At just 11.3 oz. per shoe (M9) and 9.4 oz (W7), a pair weighs less than just one single boot from most other companies.
Every hiker knows that feeling at the end of a hike where you simply can't wait to kick off your heavy, stiff boots. 
You won't feel that again in the Scrambler Mid. This technical hiking boot is so light and flexible, you'll forget to take it off once you make it to camp.
Scrambler Mid is a collaboration with the car and bike tire company Michelin. If you could see inside the thin Michelin Fiberlite sole, you'd find an embedded textile layer, giving the sole unparalleled strength, flexibility and lightness. In fact, it's so light people even run in the Scrambler Mid.
Add a breathable, abrasion-resistant mesh upper, and you have a mountain travel powerhouse that's just as comfortable once you take the pack off.
"These are great! So light but still a strong sole for hiking. Most barefoot shoes let you still feel rocks etc through them, which isn't fun after 8 hours of hiking." – Karl T
"Wore these for the first time on a long backpack trip fresh out of the box – no break in period needed. GREAT traction – very comfortable. Didn't feel the need to kick off my shoes at the end of a long hike day. :)) Worth every penny!" – Angela W.
Aqua x Sport: For Water and Trail
Paddle-boarding, canyon camping, river rafting or kayaking… they all require shoes that dry quickly, pack easily, and have grip on wet and dry surfaces. The Aqua X Sport thrives when things get wet. 
This super-powered water shoe starts with the lightweight, rock-gripping sole of the Mesa Trail II. On top you'll find a light and breathable mesh upper, non-absorbent tongue, and toe guard drain holes that help you quickly shed water. Coming in at 7.5 oz (M9) and 5.9 oz (W7), it's barely any heavier wet than dry. 
The included speed laces with adjustable lace locks mean you can dial in a custom fit in no-time flat, wet or dry. This shoe is your secret weapon for moving naturally through all the elements.
"Out of all the water shoes I've owned over the years, these are by far the most comfortable and breathable. No need to change between two pairs of shoes when going to a water related activity." – Paul R. 
"Excellent grip on the sole when traversing slick logs across streams and muddy hillsides without slipping one millimeter. LOVE!" – Danielle K.
Find The Perfect Outdoor Shoe For You
Whatever your idea of outdoors is, there is a barefoot shoe for every activity imaginable – from backpacking, to river rafting, to relaxing back at camp. Take the shoe finder quiz to see what shoe is best for you.