The best hiking boots give you the grip you need, the ankle protection you want, the comfort to handle a few hours on a trail or a multi-day trip or even walking around an urban jungle, and without unnecessary support (see below).
"Barefoot boots," or minimalist boots, let you enjoy comfort and healthy, natural movement, while still giving you the protection, grip, and traction you want for your next adventure.
Jamie took his Xero Shoes DayLite Hiker boots to the top of Kilimanjaro (the green ones), and he says "While other people couldn't wait to rip off their boots at the end of the day, my feet felt so good I almost forgot to take off my boots."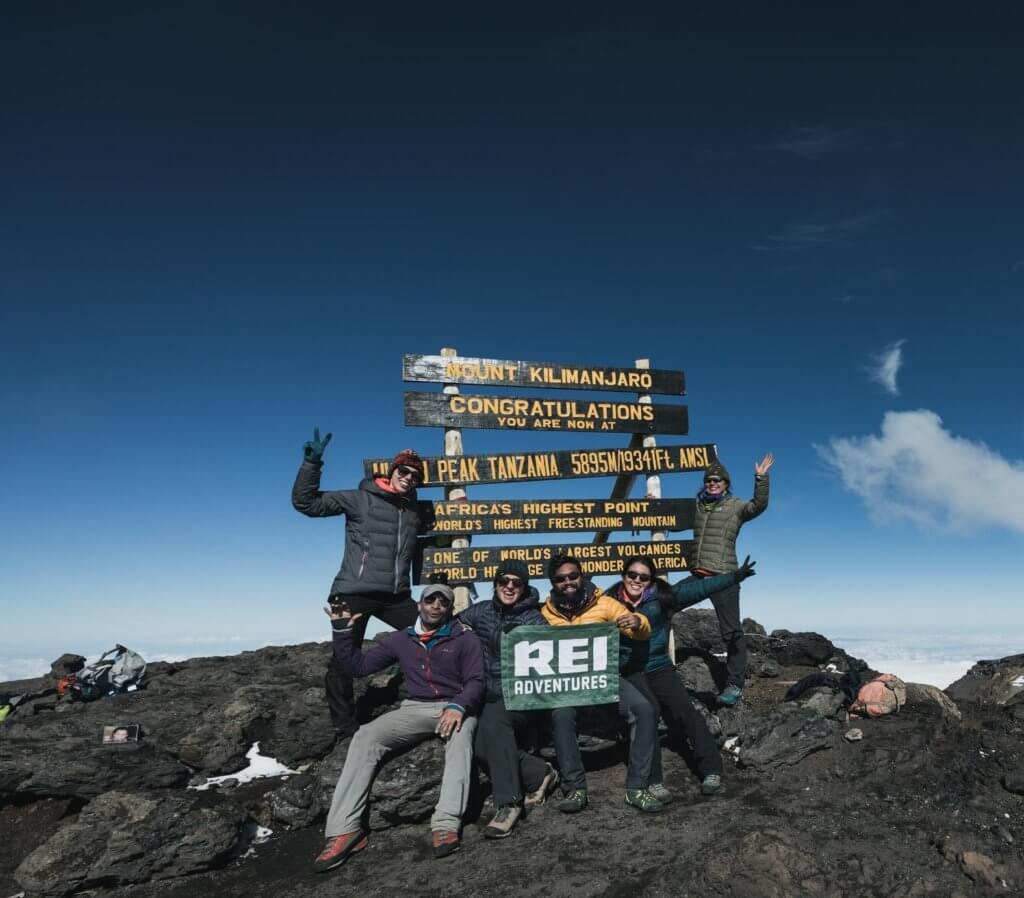 Check out our best-selling minimalist, lightweight, barefoot-friendly hiking and walking boots for men and women.
We can't wait to hear what happens when you get a pair, take them out on your favorite trail and Live Life Feet First!

When it comes to boots, we don't mess around. But we don't take ourselves seriously all the time. So enjoy some barefoot humor in these videos. Then check out our YouTube channel for more.
What makes a hiking boot the best?
A good hiking men's hiking boot or women's hiking boot should be comfortable enough to walk in, and sturdy enough for some climbing.
We've had people thru-hike every major trail we know of — the Appalachian Trail, the Pacific Crest Trail, the Camino de Santiago, you name it.
We've had people do day trips, multi-day trips, and climb some of the tallest mountains.
We've even had people run half-marathons in our boots!
So, there's not a limit to what you can do.
You just need to decide if you need a casual, boot for colder weather (the Mika and Denver), a barefoot boot that's great for day hikes (the DayLite Hiker EV), or something more rugged and fully waterproof (the Xcursion).
A good
The ankle support MYTH...
Imagine stepping on a pointy rock in a traditional hiking boot with a thick, stiff sole.
That point will become a fulcrum, and with a rigid sole your foot can't move and your ankle will twist.
No padded collar ankle support can keep that from happening. If it did, the torque would simply move up to your knee, which could be worse!
Now imagine stepping on that same rock with a sole that's flexible enough to let your foot bend around the obstacle.
No ankle twisting!
Your body can give you all the support you need 🙂
Be part of our worldwide "MOVEMENT Movement"
The Xero Shoes mission is helping people re-discover that natural movement is the better, obvious, healthy choice… the way natural food is.

That's why we say we're creating a MOVEMENT movement.
When you slip on a pair of Xero Shoes and Live Life Feet First you become part of our movement.
Check out more of our barefoot-inspired products for men, women and kids, below.
Women's Barefoot Shoes Best Sellers

 
More info about Hiking and Walking Boots for Men and Women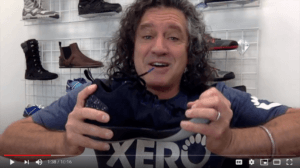 How to find TRULY comfortable shoes
–
The secret to finding comfortable shoes… It's probably not what you think. And it's definitely not what "Big Shoe" companies have been saying for the last 50 years. It's not… Read More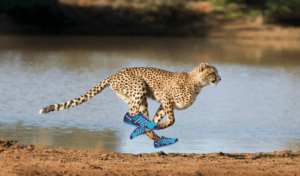 Spot Xero Shoes During Your Next Safari!
–
Introducing the Front Runner, the first shoe designed to improve the health and performance of rehabilitating cheetahs. The design idea came from New York City Zoologist, Dr. Lex Rodriguez, after… Read More
Still Have Questions About Hiking Boots? Barefoot Boots? Minimalist Boots?
If the FAQs below don't answer your questions, contact our Customer Happiness Team at [email protected] or 303.447.3100 between 9-5, Mountain Time, Mon-Fri (calling is faster).
What's good for flat feet is making them strong by USING them.
If your boot doesn't let your foot flex naturally, then, no.
If it does, then yes.
We make Xero Shoes boots so that your feet can do what's natural and support you for life.
Not all hiking boots are waterproof… even the ones that say "waterproof" on the label!
There are 3 types of construction that have different levels of water resistance.
Some boot uppers use a material that's naturally water resistant, or treated with water resistant materials
Some walking boots and hiking boots have a water resistant membrane that keeps some water out
Some have a fully seam-sealed lining (a bootie).
The last is the only fully waterproof option.
And some boots have more than one of those options built in.
For example, the Xero Shoes Xcursion has a fully seam sealed inner bootie, a water repelling membrane, and an upper material designed to resist water.
It depends on your needs and the requirements of your job.
If you need the protection of a steel toe, then most hiking boots will not suffice.
If your job requires your boots to have protective certification, then no.
The problem is that most boots are too stiff for walking.
In fact, if you're not comfortable walking in hiking boots, you won't be comfortable hiking in them.
So, ideally, you want a boot that's flexible enough to let your feet move naturally, and wide enough for your toes to spread and splay.
It depends on how sweaty your feet get and what the lining of your boot is made of.
If you have a fully seam-sealed waterproof boot, and you wear it barefoot, be prepared to deal with moisture.
A boot with less waterproofing will breathe more and be better for bare feet.
That depends on the boot.
Contact the manufacturer for details.
Typically, to resole a boot, you need to be able to remove the outsole (the rubber part that hits the ground) without damaging the padding. Or you need to be able to remove the midsole padding as well, while still having a way to reattach the sole.
Xero Shoes boots are not made to be resoled since we don't use (or need) a midsole that wears out. Plus, our shoes and boots have a 5,000 mile sole warranty.
Typically, there are 3 differences between a boot for hikes vs. one for snow:
Snow boots are often taller, coming up higher on the calf or even to the knee
Snow boots have different treads to handle ice and snow rather than dirt, gravel, skree, etc.
Snow boots will have more insulation and, often, heat reflecting insoles
Snow boots are also often waterproof, or at least water resistant.
Stay tuned… in addition to our collection of hiking, walking and casual boots, Xero Shoes has a snow boot coming out in the 2nd half of 2020!
Whether you're a man or woman, hiking boots should be, first and foremost, COMFORTABLE.
That doesn't mean they're cushy, and soft, and full of padding.
It means that at the end of a walk or hike you're not in a rush to rip off your boots so your feet can feel better.
If you are feeling like that, it's often because your boots are too stiff and pointy and don't let your feet move naturally — bending, and flexing, and getting FEEDBACK from the ground.
Statistically speaking, a hiking boot for men will have a slightly wider toe box and heel compared to a boot for women.
So if you're a man with a narrow foot, you might consider a "woman's" boot. And if you're a woman with a wide foot, consider a "men's" boot for hiking.
Well, no shoe or boot is going to fit EVERYONE and all foot shapes.
But we make Xero Shoes with a wider toe box to let feet spread and splay naturally.
Since many hiking boots are synthetic, many are vegan-friendly, using no animal products.
Xero Shoes hiking boots are 100% vegan friendly.
Simple.
Your feet are meant to bend and move and flex and FEEL the world.
If you don't let them do their job, the function of balance and agility tries (unsuccessfully) to move "upstream" into your ankle, your knee, your hip, and your back.
A lightweight, minimalist boot that lets your foot do what's natural can take the stress off those upstream joints.
In other words, they let your feet do their job so the rest of your body can do its job.
Don't neglect the FEELING part — you have more nerve endings in your soles than anywhere but your fingertips and lips. Your brain needs that feedback from your feet for proper, efficient, and enjoyable hiking and walking.
Xero Shoes' boots are made to let your feet do what's natural so you can Live Life Feet First!