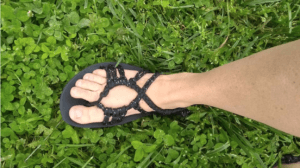 We believe anyone can have the superpower of making their own shoes. Our DIY Kit allows you to cut your footbed and lace away as you wish. However, some of our customers, like Kelly Culp, take it a step further and create extraordinary lace styles like this one, to share with the Xero Shoes world. 
With these instructions and 10 simple steps, now you can create this stylish masterpiece too, that is simple and takes no time at all but will you make people stop and ask, where did you get those sandals!?
*Note: This design takes 3 sets of laces, so get wild with your own personal color scheme!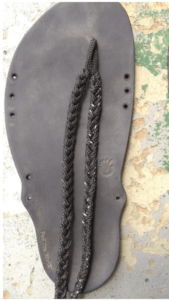 Step One: Punch your holes 
Once you get your kit in the mail, step on the outsole and mark where your toe hole needs to be for YOU. Then do a double hole punch to pull 2 sets of your laces through.
Place three hole punches on either side of your foot as seen in this image. Kelly added an additional hole punch just in front of the arch (seen on the left side of the outsole.)
Step Two: Braid your laces (above)
Step Three: Create adjustable loops
Take your third set of laces and pull in adjustable loops, the 3 hole punches on the inside of the outsole. 
Step Four: Fold Laces over
Fold your laces as seen below so that you can pull the braided laces through in the next step.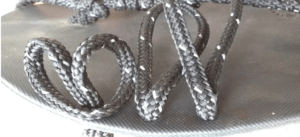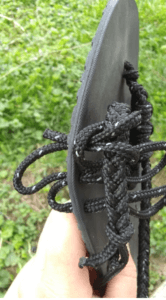 Step Five: Pull Braided laces through loops
The loops on the bottom will allow you to adjust the fit when finished.
Step Six: Repeat steps 3-5 on the other side of your outsole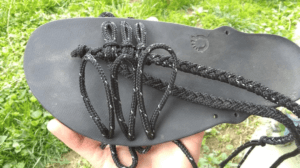 Step Seven: Arch Loops and Size Adjustments
Repeat the process once more, creating loops on both sides of the arch of the foot and pull the braid through. Make final adjustments to your loops so that your feet can slip in comfortably.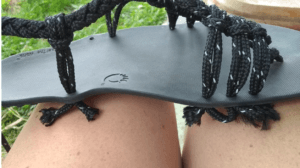 This is what your sandal should now look like from the top. Feeling those superpowers yet?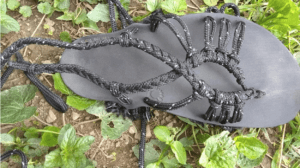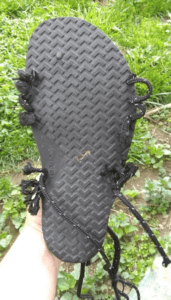 Good, let's finish these beauties up. 
Step Eight: Trim bottom of the laces to about 1/4 of an inch (left).
Step Nine: Melt the ends with a lighter/candle and flatten with the backside of the pliers.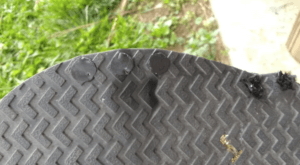 Step Ten: This is it! Your last step! Just use a square knot technique to create a slide closure (below, Left). Your final knot should look like the below, right image.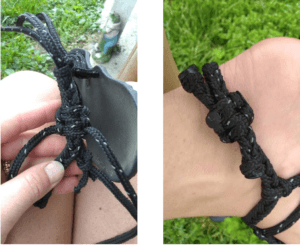 If your knot looks like this, cheers, you've just successfully tied off a square knot and completed Kelly C.'s tying design.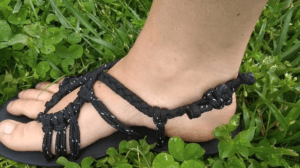 Tag us on Instagram if you try this lacing style. And if you come up with cool, new tying ideas, be sure to put them on our Tying Page