Product Description
Want something stronger than the "Toe Knot" in your Xero Shoes Do-It-Yourself kit?
Or, do you want to make it easier to swap out your laces with different colors?
Then use a pair of the Amuri "Toe Loops" from our Aqua Cloud and Genesis sandals.
In fact, you can take any similar product to our DIY kits and "Amuri-ize" it with the Complete Hardware kit here.
Grab an extra pair of laces for the "Amuri look."
The Toe Loops have been tested to withstand over 50kg of force, so they're secure.
The Toe Loops are made of comfortable, flexible, super-strong polyester lace injection molded onto a nylon disc (with our logo on the bottom).
Some people ask if you can feel the Toe Loop's disc under your foot…
Well, the bottom of the Toe Loop isn't much bigger than the knot you make for your DIY kit, so you shouldn't notice it.
If you do feel the disc, feel free to experiment with trimming or sanding it down just a bit at a time to get the feeling you want.
Here's how you take the FeelTrue® soles from our DIY Kit and "Amuri-ize it" with the Toe Loops
(BTW, you may have to push harder than "gently" 😉 )
Oh, and you can, of course, use the Toe Loops for the Classic DIY kit as well.
Once you've added the Toe Loop, lace up your sandals however you like. You can try a "traditional" huarache-style sandal pattern, like this variation of the "Ultra-minimalist Hitch" done with both strands of the lace instead of only one…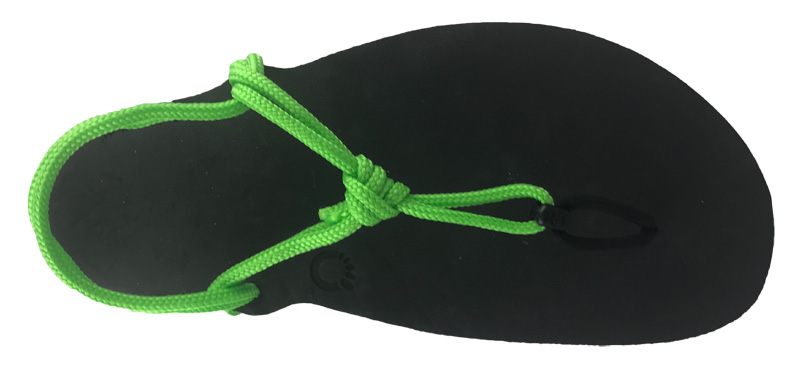 … or experiment with other tying styles on our Tying Page or have fun and make up your own!
Or add our Complete Hardware Kit to make a DIY version of our Aqua Cloud or Genesis sandals.
Toe Loop Sizing Chart:
| Size | Length Measurement | Women's Sizes | Men's Sizes |
| --- | --- | --- | --- |
| Small | 43mm | W5-W8 | M5-M8 |
| Medium | 48mm | W9-W11 | M9-M11 |
| Large | 51mm | W12 | M12-M15 |