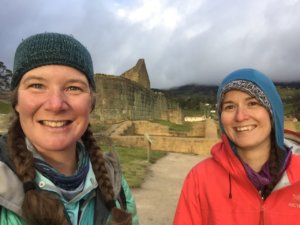 Bethany has been climbing mountains since she was 4 years old, following her father up into the Andes of Ecuador and Chile. She finds any way she can to be outside exploring- whether it be on skis, wheels, boats, or her own two feet. In the summer of 2010 she walked 2,663 miles from the Mexico border to Canada along the Pacific Crest Trail (where she met Lauren) and knew there was no going back to the way life was before the trail. She completed the Colorado Trail in 2012, and kept looking forward. The inspiration for Her Odyssey came when she read Christopher McDougall's Born to Run and learned that the Sierra Madres connect the longest continuous chain of mountains in the world.
While in College, Lauren led climbing, canoeing, and hiking trips with the school's outing club. Post-graduation, she thru-hiked the Appalachian Trail (AT) from Georgia to Maine. During her hike, she discovered how rejuvenating, empowering, and challenging the outdoors can be and thus, she became "hooked" on the wilderness experience and on long-distance hiking. She has since thru-hiked the Pacific Crest Trail (PCT), the Colorado Trail (CT), and the Continental Divide Trail (CDT). Having hiked three of the longest trails in the U.S.-over 8,000 miles- she has earned the 'Triple Crown' of the hiking world.
In November 2015 Lauren(Neon) and Bethany(Fidgit) began hiking north from the Beagle Channel on the southern end of Tierra del Fuego. Traveling along the Andes of South America, they're engaging and sharing in the lives of those they meet. We are currently three years, five countries, 10,000 km/6,500 miles in to our endeavor and going strong! The Her Odyssey Team looks forward to sharing more stories as we make our way to the Arctic Ocean.
My Favorite Xero Products