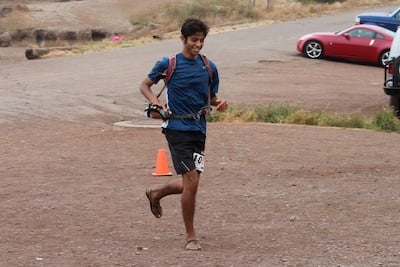 Some people see Xero Shoes and say, "I don't like flip flops."
Guess what?
We don't either!
In fact, one of our company goals is the eradication of flip flops from the planet (and, of course, replacing them with Xero Shoes! 😉 )
So what makes Xero Shoes different — and so much better — than a flip flop?
Check out this video:

Barefoot Running Sandals vs. Flip Flops - The Xero Shoes Difference
Flip flops:
Don't let you really feel the world
Have usually uncomfortable toe posts
You have to jam your toes into the post or the flip flops off your foot
You have to grip with your toes to keep them from falling off
The sole material usually breaks down quickly (cheap, in this case, means CHEAP)
They're made in one-size-fits-none sizes (how many people do you know who aren't either falling off one side of their flip flop, or having too much extra sole hanging in front of their toes or behind their heels?)
Xero Shoes, on the other hand:
The FeelTrue® soles (co-developed with the former lead designers from Nike and Reebok) let you Feel The World® while still feeling protected
Have a soft flexible toe strap… but more importantly, have a heel strap that holds the sandal on your foot without discomfort
The lacing style means you don't have to jam your toe into the toe post, or grip unnaturally with your toes when you walk — the sole is simply "there", under your foot
Our FeelTrue® outsoles have a 5,000 mile sole warranty!
You can trim some Xero Shoes for a perfect fit, no matter what your foot shape
You can personalize your Xero Shoes DIY kits with fun tying styles and decorative add-ons
Of course, the simplest thing I can say is: You don't see people running marathons (and beyond) in flip flops, but we have LOTS of people who've done that in Xero Shoes.
Here's a pic of Armandoa Rodriguez finishing his first 50k race in Xeros!