[ujicountdown id="2015 sale" expire="2015/03/12 21:59″ hide="" url="" subscr=""]
ON SALE NOW!
Plus you can WIN the BRAND NEW Amuri Z-Trek — the lightest, most comfortable, versatile,

sport sandal

your feet will ever love — or one of DOZENS of other prizes! Over $1,000 worth in all.
And check out the 2015 colors for the Cloud and Venture, including a brand new, patent-pending lacing system that gives you a perfect fit in just seconds.
Find out more about the Z-Trek and how you can WIN in the video below.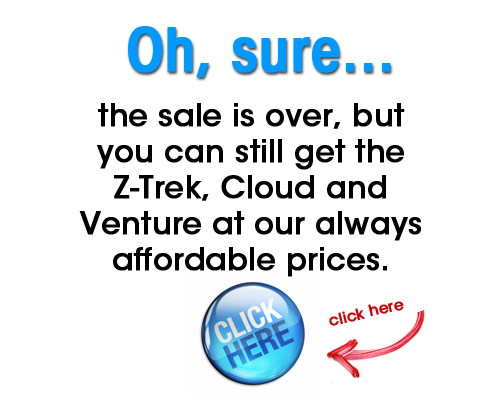 Did you win?
WOW… over 49 winners in our 2015 sweepstakes!
Plus, we picked 3 winners from the comments we received and 3 random comments… before I share them, let me just THANK YOU ALL for your wonderful comments, your support, your enthusiasm, your curiosity.
Lena and I were blown away by the stories our current Xero Shoes wearers shared. We really don't know how to express how moving it has been to read about your lives and our small, or sometimes large, part of them. So, again, thank you.
In fact, there were so many touching stories that even the randomly selected winners could have been picked from our favorites.
And there were SO many awesome comments that we practically had to throw darts to pick 3 out of the dozens that we all adored here in the office.
With that said, though, and in no particular order, the prize-winning comments came from:
1) Lara Rosenberger, who not only had great comments, but shared more than anyone else!
2) Andy Frevert, who bribed us with a fossil (we'd like something named after us, please)
3) And "Stephen" who nailed it with brevity: "z-feet need to trek!"
Don't wait to get yours
If you didn't win, you can still get the Z-Trek and the updated Cloud and Venture… but…
Act NOW — LIMITED SUPPLY — The ports at the US are having some, uh, "trouble," which could hold up our new products for MONTHS. So we had to spend tens of thousands of dollars to fly in as much product as we could afford. Unfortunately, that means we only have a few thousand pairs, total. The rest will be here, hopefully, by mid-April… depending on the ports.
So order now if you want to guarantee that you get your Z-Trek, or 2015 Venture and Cloud.
What was your "WHY"?

We're reading EVERY comment!
Then, we'll take 3 random answers, plus 3 of our FAVORITE (judged by everyone here at the Xero Shoes office) — make it a good one 😉 to win a pair of Z-Trek or Cloud or Venture.
Check out our Prize donors:
We're thrilled to have received prizes from these awesome companies. Check them out and tell 'em we sent you! (links open in new tabs)