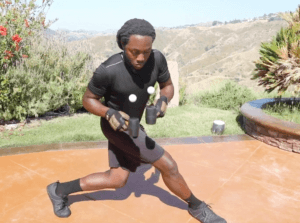 We were recently tagged in a video by Ebiye Jeremy Udo-Udoma, aka the Handball Ninja. Once we got over the excitement of seeing a professional athlete in Xero Shoes, we couldn't peel ourselves away from the screen as we learned more about Handball. Read on for our interview with the one and only Handball Ninja.
How long have you been playing handball? 
I started playing handball after seeing it in the Beijing Olympics back in 2008, which marks 2020 as my 12th year involved in the sport. I initially made Team USA back in 2014 and have competed internationally ever since.
Favorite cross-training activity?
Touch Rugby for sure! I actually got the opportunity to play with the USA Touch Rugby Men's National Team at the most recent World Cup in Malaysia in May of last year. It's a great way to keep my fitness up, work on my ball skills and agility, and cognitively stay sharp due to the fast-paced decision making required. There's a lot technically and tactically that I've been able to carry over from my Touch Rugby experience back to the handball court.
What is something the general public should know about the sport of handball? 
Similar to volleyball and soccer, handball is a sport that is played on multiple surfaces from courts to fields to beaches. Handball has three main disciplines (Field Handball, Indoor Handball, and Beach Handball) with Indoor Handball being the most popular, followed by Beach Handball, and then Field Handball. While Field Handball was the version of the sport that was originally introduced into the Olympic program back in the 1930s, it was eventually replaced by the other two disciplines (Indoor & Beach) and the last Field Handball World Championship was in 1966. Field Handball now is only played recreationally and the International Handball Federation no longer presides over Field Handball competitions.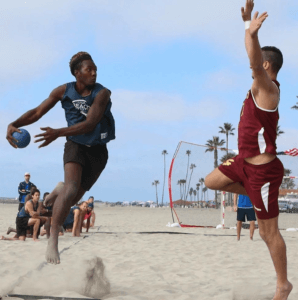 Tell us about your journey to the Olympics.
As far as my personal Olympic story, it's been…an interesting one to say the least. I initially made the US Indoor Handball National Team in 2014 where we competed for a spot in Rio 2016, but we were ultimately eliminated from Rio contention after losing a qualifier to Uruguay. Our Indoor National Team also failed to qualify for Tokyo 2021. However, I made the US Beach Handball National Team in 2016, Beach Handball being the discipline of Handball that is contested in the World Games, World Beach Games & the Youth Olympic Games. While I have competed in the World Beach Games, aka the Beach Olympics, and will compete in the upcoming World Games in Birmingham, Alabama in 2022 as we have automatic host-qualification, I haven't quite made the "big dance" that's the Summer Olympic Games in my international career, yet. However, I am still working towards it on a number of levels. I have been an ambassador for Beach Handball "graduating" from The World Games to the Summer Olympic Games, similar to what Rugby accomplished in 2016, and a decision will be made at the end of this year by the International Olympic Committee on whether Beach Handball will join Indoor Handball on the Summer Olympic program. If you see the hashtags #OlympicBeachHandball or #BeachHandballParis2024 on social media they are in reference to this.
How many hours per day are you training?
Between personal training, team practices, and film study I'd guesstimate around 6 hours of my average day my consciousness is on some facet of my handball or overall athletic development.
What's your training mantra?
My training mantra is "JGB" which is short for "Just Get Better". There's a time to prepare and there's a time to perform. In my experience, too many athletes perform during their preparation time and undermine their own development. When you're preparing it's just about getting better at the different facets of your craft, looking good is for performances. I'm always searching for the biomechanical inefficiencies in my body and working to solve them. All athleticism originates first and foremost from the central nervous system. Making improvements there and becoming more coordinated within the context of the sport I'm playing is my primary focus point whenever, however I'm training. I'm not one to beat my chest over how many reps of something I did, or care too much if I miss shots, lose scrimmages, or otherwise look bad in training. My main concern in training is that I have learned and developed as an athlete, hence "Just Get Better".
Follow Ebiye's handball journey @HandballNinja on Facebook, Instagram, Twitter, or TikTok.