Thanks for ordering custom-made Xero Shoes huaraches running sandals!
In order for us to make your sandals, we need a tracing of your foot.
Watch the video, or read the instructions, below, and then FAX, scan/email, or mail us your tracing using the information in Step 6. If you have any questions or problems, just email us, or give a call — 800.499.8880 or 303.447.3100.
NOTE: Please don't send a picture of your tracing, but send (or FAX or scan/email) the tracing itself.
(if you have trouble viewing this video, click here to see it on YouTube)
Step-by-step instructions for making your foot tracing:
Step 1 – Trace the foot
Step on a piece of paper with either foot. Lean forward and put a bit of pressure on your foot so it flattens a tiny bit.
Then, using a marker (like a Sharpie) held vertically, trace around your foot.
You don't need to get every tiny nook and cranny, and you're not trying to get an EXACT measurement of the sole of your foot… in fact, by holding the pen vertically, you're making a trace that's slightly bigger than your foot, and that's exactly what you want.
Step 2 – Mark the toe hole
Put a dot between your 1st and 2nd toe, right where the webbing between your toes is, and slightly closer to the 2nd toe than right in the middle of the space between the toes.
The reason for this is, as you run, your foot will want to shift toward the inside. By putting the hole closer to the 2nd toe, your foot stays in place better.
NOTE: It's much easier to have someone else make this and the next 2 marks if you can wrangle someone into helping you.
Step 3 – Add a scale indicator
If you FAX or scan your tracing, it may get resized. For us to adjust for that, we need a scale indicator.
With a ruler, draw a straight line, about 5″ long (12-15 cm) in the middle of your tracing.
Make a mark at each inch mark, for at least 4 inches (or at each centimeter for at least 10 cm)
Step 4 – Who are you?
Write your name and order number on the tracing so we know who you are 😉
A correct foot tracing should look like this. Please note the the scale indicator, and a identification info (name and order number):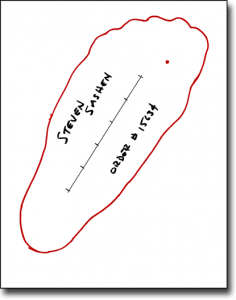 Step 5 – Check your other foot
Take your tracing, flip it over, and step on it with your other foot.
If your other foot fits in the same space (doesn't have to be exact, but close), then you'll use just this one tracing. If your other foot is significantly different (especially if it's bigger), repeat steps 1-4 with your other foot on another piece of paper
Step 6 – Get your tracing(s) to us
To get us your foot (or feet) tracing, select one of the following methods:
FAX to: 303.786.9292
Scan and then email: custom@xeroshoes.com
Mail to: Xero Shoes, 100 Technology Drive, Suite 315C, Broomfield, CO 80021

NOTE: Please don't send a picture of your tracing, but send (or FAX or scan/email) the tracing itself.
We will confirm receipt of your tracing no later than the next business day.  If you sent a tracing and do not get confirmation from us within 2 business days, please let us know as this probably means we didn't get it and we don't want you to wait any longer than necessary for your custom Xero Shoes.
If you are paying by check or money order please make your check out to "Feel The World, Inc." To find the total cost, including shipping, go back to www.XeroShoes.com/shop and place your order using the Check/Money Order option.