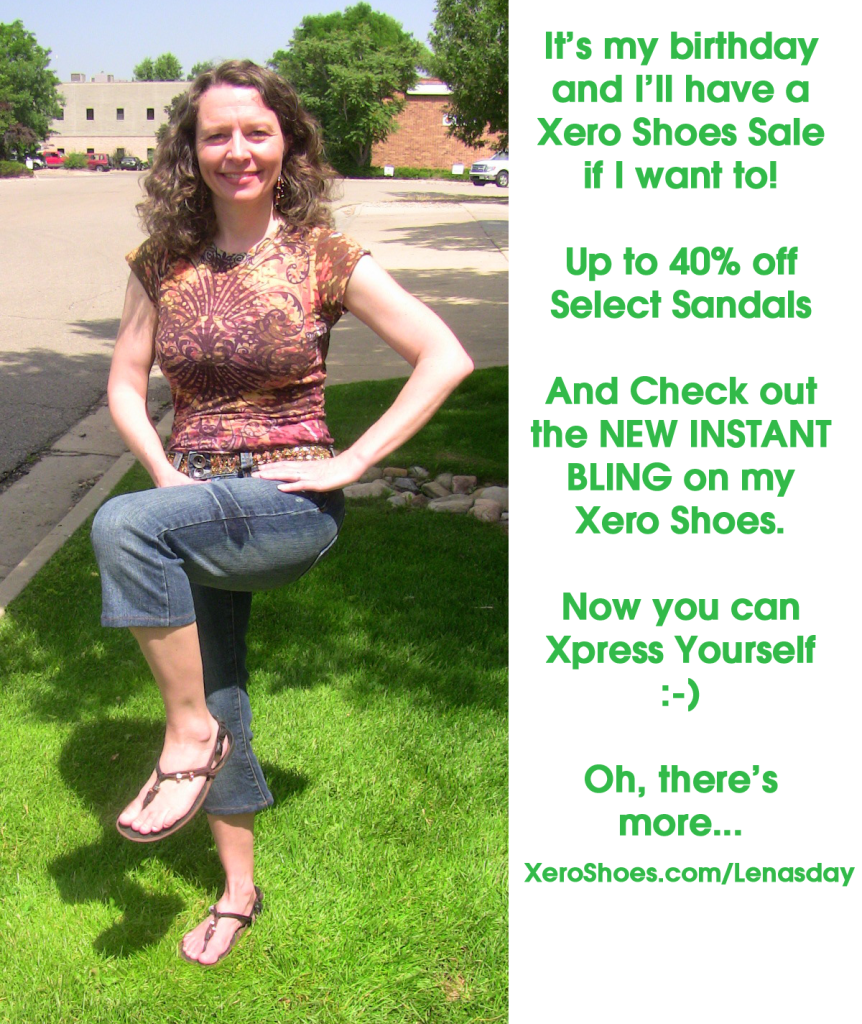 Happy Birthday to Lena Phoenix, Xero Shoes' co-founder, COO and, my favorite part, my wife!
We hope you join our birthday celebration with any of these 3 bits of WAY cool news!
SAVE almost 40% on the Venture Camo and Ocean Camo!
Whether you're hiking in the woods, or hanging out on the beach, our 2 Camo colored Ventures are a great addition.
We've been selling out of these REALLY fast and we're already out of a bunch of sizes.
But we also need to make room in our warehouse for new stuff coming later this year.
Now you can get Camo and Ocean Camo Venture's for only $24.99… that's $15 off!
This sale ends on Sunday, July 13th, so act fast.
MEN: Click Here to Get Yours.  WOMEN: Click Here for Yours.
Next…
Bling out your Xeros and Xpress yourself
If you look carefully at Lena's picture (taken outside our Boulder, CO offices), you'll notice something brand NEW on her laces:
Snap-on beads that let you make your barefoot sandals super fashionable. In copper, gold, and silver colors, there are almost 2-dozen patterns you can pick. And they're so inexpensive, there's no reason not to get enough to let you change up your look whenever you want.
And adding the Snap-on Beads is, well, a snap!
Check out this video and see for yourself:
 Add some INSTANT BLING! to your Xeros.
CLICK HERE to get some Snap-On Beads for you or someone who wants to Xpress themselves with their Xeros.
Turn your DIY Barefoot Sandal Kits into Amuri Sandals!
Our Amuri Cloud and Venture are now our best-selling barefoot shoes. And I get why. They're ready-to-wear and ready-to-play.
We've had a LOT of people ask if they could get the various bits of hardware we use to make the Amuri line, so they could use it with their do-it-yourself sandals.
Well, now you can!
You can get the complete Amuri Hardware Kit, or the individual pieces — Toe Posts, Heel Tubes, Lace Tensioners, Lace Ends.
Click Here to get your Amuri Hardware and see how you can turn your Kit into something special.
NOW, get FREE Exchanges on Xero Shoes purchases
We do everything we can to help people get the right product on the first try.
But sometimes the size isn't quite right, or you realize you like the Lime Green Amuri Cloud more than the Blue that you bought… or you got a DIY Kit and realized you don't have time to, well, DIY it.
Whatever the reason, if you make a purchase and realize you want to swap it out for something else, you can now do that at no cost if you live in the U.S.
Contact us — call 800.499.8880 or 303.447.3100 or email support@xeroshoes.com — and we'll send you a pre-paid postage label and get you your new Xero Shoes product right away. Send back the original product and as soon as we get it, we'll ship out the replacement.
Not surprisingly, there are some restrictions — you must make the exchange within 30 days and the product must be in resellable condition (don't go for a run outdoors in them first). If the price of the product you want is different from your original purchase, we'll contact you to handle any refund or additional payment.
PHEW!
Okay, that's what we've got for now.
Remember, the 40% off sale on Camo and Ocean Camo Ventures ends on Sunday, July 13th. So, act fast.
Now I'm taking my lovely wife out for a birthday dinner…