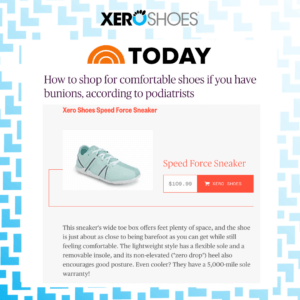 Looking for podiatrist-recommended shoes if you have bunions? It's important to wear shoes with a wide toe box and stretchy material.
Today.com picked Xero Shoes' Speed Force as one of their most comfortable sneakers for bunions.
This sneaker's wide toe box offers feet plenty of space, and the shoe is just about as close to being barefoot as you can get while still feeling comfortable. The lightweight style has a flexible sole and a removable insole, and its non-elevated ("zero drop") heel also encourages good posture. Even cooler? They have a 5,000-mile sole warranty!
For Xero Shoes fans, you know that every shoe we make is good for bunions because of the wide toe box and foot-shaped design.
If you want a lightweight running shoe perfect for sprints or races, the Speed Force is a great option!