Jonathan Sinclair and Melissa Gosse left the cold weather in Edmonton, Alberta and jetted to Costa Rica for the La Ruta Run, perhaps the hardest ultramarathon in the world.
We'll have a full report about their trip and the race in about 48 hours. But until then, I wanted to share this quick story they told me.
Knowing that they'd be running with some Tarahumara runners, I gave them some extra Sensori Venture Xero Shoes to bring on their trip. They sent the photos, below, and report (from their phone):
We gave away all the Ventures you sent us down with. One to Maria (Tarahumara female who hasn't taken hers off since I put them on her feet), the "presidents" of Chihuahua, Mexico (two men in this picture), Martin (spelling? "Head/leader" of the Chihuahua Tarahumara tribe…the one in this pic with us) and tonight, two local Costa Rican natives who will be running la Ruta with us on Saturday!!! Everyone is LOVING the Xeros. The presidents of the Tarahumara want to talk to you about getting some more for the Tarahumara back home to wear..how cool is that?!
The answer? VERY cool!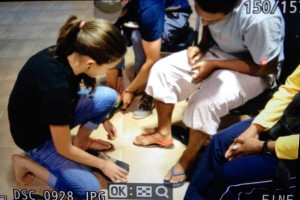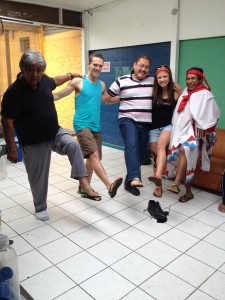 We've proudly supported the Tarahumara through the Tarahumara Children's Hospital Fund… but I love the idea of getting more Xeros onto runners' feet! Stay tuned.