There are 3 different types of minimalist sandals.
Thong style sandals sandals with lacing that comes up between your 1st and 2nd toe.
Sport style sandals using webbing that comes across the top of your foot and includes a heel strap.
"Hybrid" sandals that use different design elements — e.g. toe loops — to secure the sandal to your foot.
Let's examine each.
Thong sandals
These are mankind's oldest footwear.
Archeological digs in Oregon revealed a 10,000 year old sandal made from sagebrush that looks remarkably like our Genesis sandal.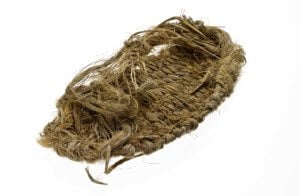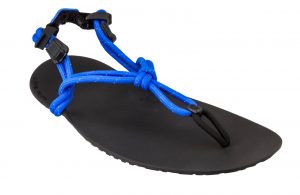 Thong style sandals are often confused with flip-flops because of the toe thong, or toe strap.
What makes them different — as you can see in that image of the Genesis — is that the lacing system surrounds your entire foot, including the ankle and heel. So you don't need to grip with your toes on the thong to hold the sole on your foot.
This reduces or eliminates the pressure spot between your toes.
But if you don't want something between your toes, you'll look for a sport sandal.
Sport Sandals
These sandals use webbing in a pattern that goes across your foot and includes a heel strap (sometimes adjustable, sometimes not) for a secure fit.
We have our Z-Trek sandal, which uses the same base as our 6mm Contact DIY sandal making kit sole, but with a sport-sandal-style webbing. It's really, really, flexible so your foot moves and bends and flexes naturally.
And then, there's our Z-Trail sandal, which is our trail-friendly sport sandal. What makes this so comfortable, have so much protection, and still be so flexible is our three layer FeelLite™ sole.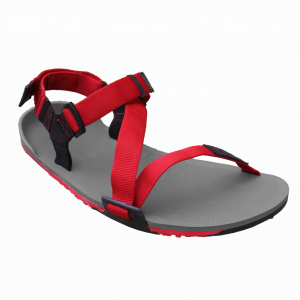 The first layer is our FeelTrue rubber which gives you abrasion resistance. The TrailFoam middle layer evens out the bumps. The BareFoam on top gives just that little bit of cushioning underneath your foot that makes you go "Aaaah."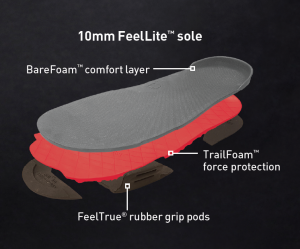 What makes this comfortable, again, is that your foot can bend and flex and move naturally… unlike other sport sandals which are big, thick, stiff, heavy, and brick-like.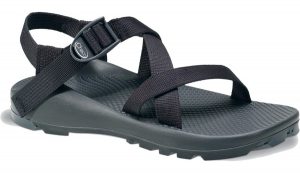 Hybrid Sandals
These sandals us design elements from both previous styles.
For example, our Jessie sandal has a toe loop to hold your forefoot in place, and a separate heel strap with adjustable instep strap.
This is on top of a minimalist sole — just 5mm of FeelTrue® rubber.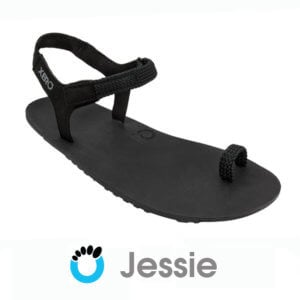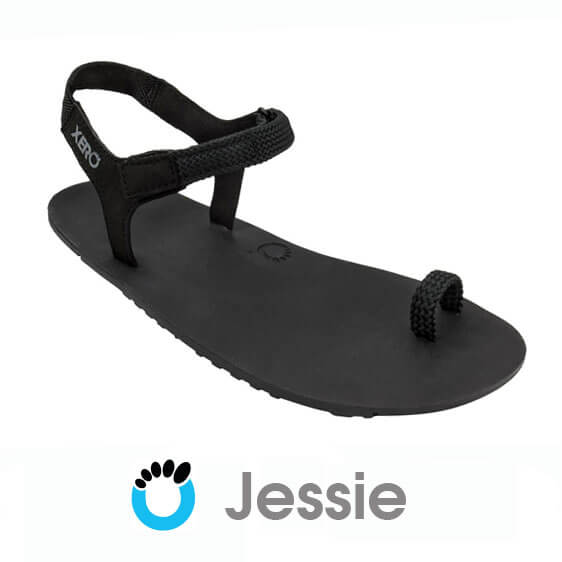 Or our Veracruz sandal, which was literally dreamed up by our Chief Product Officer, Dennis Driscoll. He was dreaming about this unique lacing system and forced himself to get up to sketch it.
You'll see that it has a toe loop, like the Jessie (BTW, the Jessie was invented by Dennis's wife, Jessie, who made a similar sandal with our DIY kit!). But then the forefoot strap comes around your foot and becomes the adjustable heel strap, and then there is a separate, adjustable instep strap.
Why get any of these?
In short, comfort and performance come from letting your feet do what's natural — bend, flex, move, and safely feel the world.
All of these shoes give you that natural experience so you can Live Life Feet First!