There are two products that people currently refer to when they say "barefoot sandals"
The first is more about bare feet, and puts the "sand" in "sandals." It's just a decorative lace wrapped around your toes and ankle, so it sort of looks like you're wearing a sandal, but you're pretty much barefoot. See this image: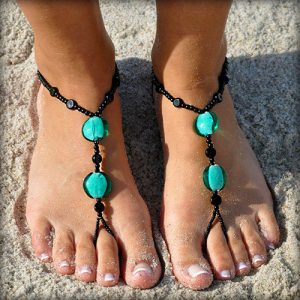 The second "barefoot sandal" is, well, an actual sandal, but it's minimalist and flexible and thin enough to let your foot move naturally, as if you were barefoot, while offering just enough protection so that you don't have to worry about what you're stepping on (or, stepping in!).
Here's a picture of our Z-Trek sport sandal. Notice how flexible it is, which is why you get that bare feet feeling when you wear it.
If you want that decorative look, you can still get that with our DIY sandal making kits: