Here's the world's fastest lesson on how to make a pair of minimalist sandals:
Get some sort of sole material – leather, rubber, whatever you can find. The material that we make, our FeelTrue rubber, we designed it specifically for this purpose, so I guarantee you're not going to find a better material than this in terms of flexibility, durability, protection. That's why we have our 5000-mile sole warranty. You don't want something so flexible that it just flops over. You don't want something so stiff that it doesn't bend and flex and let your foot move naturally.
Then you'll want some sort of lace material. Again, our polyester laces are designed specifically for minimalist sandals. They don't stretch — you don't want anything elastic since that can make your foot slide around They're water-resistant. They're color-proof.

Be careful about using using leather laces. When leather gets wet, it expands. When it dries, it gets stiff and can be brittle. And leather laces will typically have edges that can cut into your foot. But there are no edges on our round laces or, actually, even on our sport sandals, we use tubular webbing so that there are no edges on that as well.

Make a hole in the sole at a spot that's between your toes, between your first and second toe, just in front of the webbing.
You're going to take the lace and put it through that hole and tie it down or secure it in some way.
And then thread the lace around to the outside ankle hole — just put a hole right there sort of underneath your ankle bone
Then bring the lace around your heel to the inside ankle — again put a hole sort of underneath your ankle bone
Tthen you're going to just secure the lace up against the toe strap with any sort of knot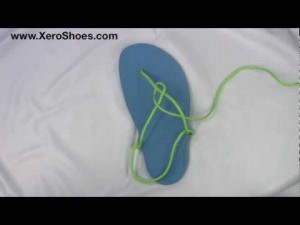 Now, there are a lot of different other tying styles. Take a look at our Tying Page.
You'll find more explicit instructions for making minimalist huarache sandals here.
Make your life easier. Go to XeroShoes.com/shop and pick up one of our do-it-yourself sandal-making kits.
When you do that, you get a pair of outsoles in the size that's right for your foot, in the thickness that gives you the protection you want (We have our really ultra-minimalist 4-millimeter Connect kit or our 6-millimeter Contact kit which gives you a little more protection).
Our soles are made with our exclusive FeelTrue® rubber — designed with help from former designers from Nike and Reebok — so durable that we back them with our 5,000 mile warranty.
You select a pair of laces in one of 22 colors, so you can mix and match colors of soles and colors of laces to get the style that you want.
We give you a hole punch because you punch a hole for the lace to go where it fits your unique foot shape, and then we give you instructions on the dozens of different ways that you can tie a pair of sandals so you can use them for running, walking, hiking or pretty much anything in between.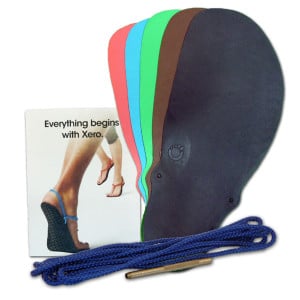 You can also try our Classic Kit if you want an even "more DIY" experience. With that, instead of our FeelTrue soles, you get a sheet of Vibram Cherry rubber from which you make your outsole.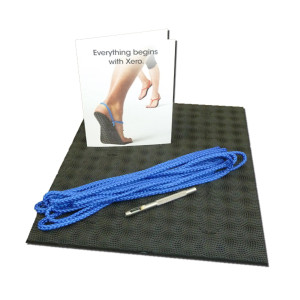 Frankly, we don't care if you buy our do-it-yourself minimalist-sandal kits or not. We just want to have more and more people going out in a pair of sandals so they can feel the freedom, feel the fun and feel the world. And we can't wait to hear what happens when you do.