If you want to make a pair of barefoot shoes, you can. It's really simple and it's a lot of fun. People have been doing this for thousands of years. It's not rocket science or, as they said 5000 years ago when they first started doing this, it's not rock science. We've tried to make it easier for you.
We have two do-it-yourself kits, our classic kit, which is what we started doing when this was just a hobby of ours. It's a sheet of Vibram Cherry rubber, that we cut into smaller sheets and that we sell with our laces and instructions on how to make them. You can buy one of 22 different colors of laces, and there dozens of different tying styles that you can do as well.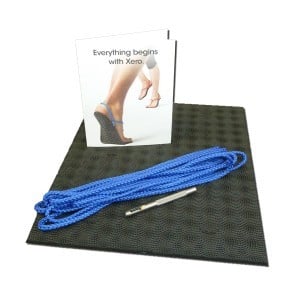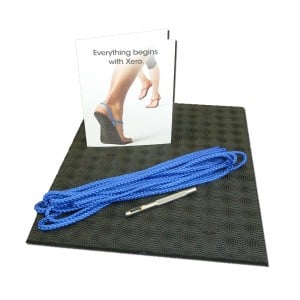 We decided after a while to improve on that product and make something specifically for barefoot shoes. We developed what we call FeelTrue rubber, comes in a couple of different colors, comes in a bunch of different sizes, and is already foot-shaped to begin with. It already has ankle holes punched into it so that the only thing you need to do is take hole punch that we give you and punch a hole where it fits for your unique foot shape. You're going to do that in between your first and second toe just in front of the webbing. Then again, grab the laces, lace them up. Dozens of different ways of lacing them.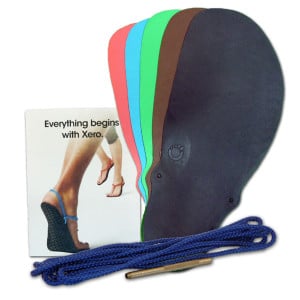 The other thing with the FeelTrue rubber, we developed this sole, our dual chevron tread. This gives you great grip whether you're going uphill, downhill, fast or slow, wet or dry, and we have a nice grippy top surface as well that gives you good traction without too much friction. Nice contour design. It doesn't provide unnecessary support. The soles, both the 4 and 6mm, don't naturally flop or bend. They keep a good shape.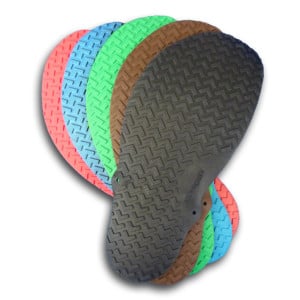 Once you get the shoes, you can experiment with lots of different tying styles from really ultra-minimalist, or you can get blingy. We had a customer who painted her toenails and then added beads to match her toenails. You could do something a little more gladiator or Tarahumara style. People have used webbing that they had lying around. It's not something that we currently sell. You can use your own laces and webbing; you don't have to use just what we sell. You can add a bead or charm if you want to get a little decorative, or if you want to get totally blinged out, something Lena did when we were on Shark Tank is photo'd below.
| | |
| --- | --- |
| Matching Nails and Beads | Lena's Shark Tank Sandals |
The DIY Kits are a great project for kids, a great project for the family. It takes a few minutes to develop what I call the superpower of knowing how to make your own footwear, and then once you do you can feel the freedom, feel the fun, and feel the world.