When people think sandals, they often think "beach" or "summer."
We've had lots and lots of people who have worn Xero Shoes at the beach. Sometimes they're using Xeros for walking around, when they don't want to step on debris (natural or otherwise), or the sand is too hot for bare feet.
And sometimes they're at a beach wedding and want sandals. We often get calls from the bride-to-be saying that she wants to have a party with all of her bridesmaids where everyone makes their own sandals, or they take our ready-to-wear sandals and decorate them with beads and charms and pendants so they have something really, really fun to wear and still have that open natural feeling that goes along with being at the beach.
The other thing people use these for at a beach is paddleboarding or surfing… whether they'll wear Xero Shoes on the boards or just when they're done. We have lots of people who do both of those as well.
Some people don't like the heat that they get from the sand, and the good news with a barefoot sandal is you get some protection from that heat.
Now, if you're using one of our really thin soles, you can't argue with physics — heat will travel through a sole eventually.
So if you're standing on something really, really hot for a long time, it's going to get warm — there's no way to prevent around that. But you can also use one of our thicker soles. The sole on our Z-Trail sandal that has three layers – our FeelTrue rubber layer, our TrailFoam layer, and our BareFoam layer. And because of those three layers, there's more protection from heat, and protection from abrasion as well.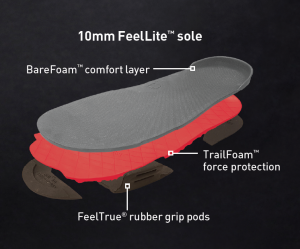 One other thought about Xero Shoes at the beach: people will ask, "Hey, are they safe in the ocean or safe in a swimming pool?" and they'll also ask, "Will I get sand underneath my foot?"
Well, it is an open sandal, so there's no way to protect you from keeping things from getting underneath your foot because it's an open sandal.
The good news though is that all you have to do to get sand out of the sandal is just either flick the sandal and it'll come out or just stick your feet in the water.
And the good news about the "stick your feet in water solution" is that our Xero Shoes FeelTrue® soles are made so that they're won't be damaged from saltwater or from chlorine.
So jump in the ocean, jump in a pool, wash off your feet, and go back to having fun.

As we always say about Xero Shoes… we want you to Feel The Freedom. Feel the Fun. Feel the World!