Women have a lot of huarache sandal style options with Xero Shoes.
All of our shoes are like ballet flats. We don't have any wedge style sandals because we believe that natural is better, and having your heel elevated can offset your posture in ways that cause problems for your back. We want women to enjoy the fun and benefits of natural barefoot living.
Here are some ways you can do that.
The first is with one of our do-it-yourself kits.
You get a sole in the color and size that you want, and then there are two different thicknesses – one is really, really thin, 4 millimeters, just great barefoot feel but just enough protection; the other is 6 millimeters thick and is even better if you're going to go on trails or things that are a little more aggressive.
You get to choose from 22 different colors of our polyester laces, you can mix and match those and get really great color combinations. The last thing you get is a hole punch because you're going to be punching a hole where the lace goes through for your unique foot shape, like right in front of your toes between your first and second toe, right in front of the webbing.

And then there are dozens of different ways that you can lace these. You can also get a little decorative from something really simple, just add a charm to your shoe, which is a nice elegant touch. You can also get really blingy if you like.
We had one customer paint her toenails and then she added beads that matched her toenails. So there are lots of fun, decorative options.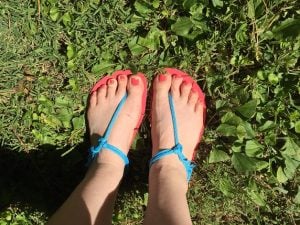 If you don't want to make your own sandals, that's totally understandable.
We have two different styles after that that you can go for. First, our thong-style sandal, this is our Genesis sandal, comes in three different colors and it's really easy to slide your foot in, tighten it up around the forefoot, and then grab these little lace ends and give them a tug and they'll fit perfectly on your heel.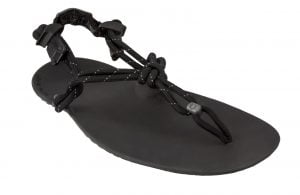 They just slide on and off. Then, you can wear these for anything you want from going to yoga or a Zumba class or taking a walk or taking a hike or taking a run.
Pictured below are Mel and John Sinclair, who are finishing a 50 mile race in their Venture sandals, the precursor to the current Genesis.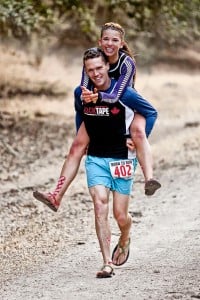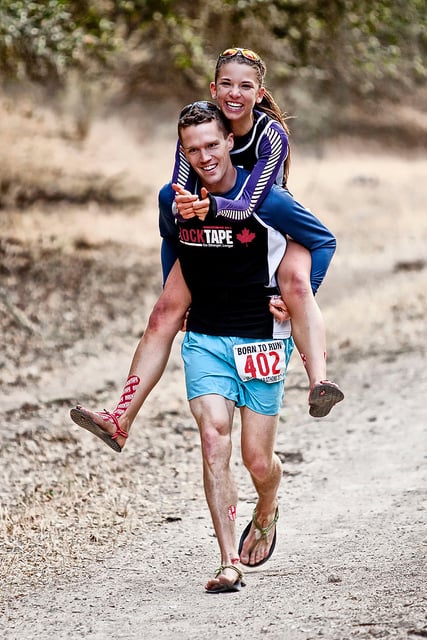 If you want something a little more comfortable and a little flashier too, you can get our Cloud sandal. We laid 3 mil of BareFoam™ in the forefoot so it's even lighter, more flexible, a little more comfortable, and it floats. You can also add charms or beads to both the Cloud and Genesis to get a little decorative effect there as well.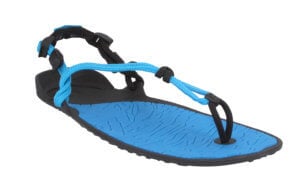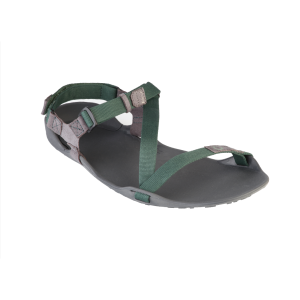 Then we have our sport sandals, the Z-Trek sandal, which is the same base actually as the Genesis, just with 1mm more of our FeelTrue® rubber but with the sport-sandal-style webbing. So this feels great. It's a real barefoot feel; really, really flexible. It's like someone's replaced the sole of your foot with a tire tread, so really great for hiking and camping. Great camp shoe.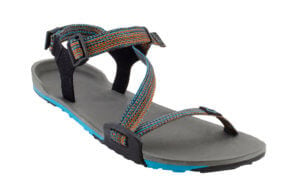 If you need a little more protection, you'll want to get our new Z-Trail sandal. This is our bestseller. It is the perfect combination of lightweight flexibility so your foot can move naturally, durability, versatility.
People do everything from taking a walk to running ultra marathons to going to yoga to doing CrossFit to you name it. Really, really comfortable; really lightweight. In fact, this weighs less than the Z-Trek because of the foam – we have our FeelTrue® rubber for abrasion, then TrailFoam™ to get rid of all the bumps, and BareFoam™ for that little bit of comfort. A wonderful sandal and our bestselling sandal.
Those are the options that you have. We look forward to seeing what you do, how you feel the freedom, feel the fun
and feel the world.