I gave up shoes in 2009 when I started walking, running and, well, living barefoot or in Xero Shoes.
Soon after that I gave up sitting, too.
Okay, not gave up… but I got so sick of being planted in a chair all day that I throw away the chair, propped up my desk, and started standing instead.
After a while, that got a bit old, too. So I found a free treadmill on Craigslist, ripped off the handrails, mounted the controller on my wall, and started walking while I worked.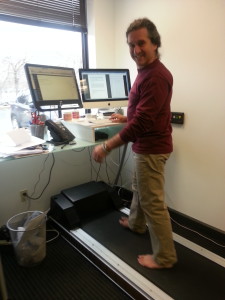 Now you may not go as far as I did, but I highly recommend that you spend less time sitting and more time standing. And doctors agree (seriously, get off your butt right now!).
One "problem" with standing, especially if you do it 8-10 hours a day like I do, is that, well, it's kind of boring for your feet. You're standing on the same surface, at the same angle in, roughly, the same place.
So I loved when my friends from Quitting Sitting showed me their new product, Topo (not to be confused with the shoe company of the same name).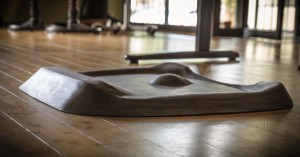 Topo gives you varied surfaces to stand on, with angles you can explore, a mild texture, and some cool colors.
Here's a video they produced about Topo:
I'm writing this a bit prematurely, I'll admit, because I haven't received my Topo yet (and, yes, I'll put it on top of my treadmill for the times when I'm standing instead of walking). But for those of you who do stand (and that could be in the kitchen or anywhere else, too), I thought I'd give you a heads up.
Check out Topo here… and if you get a Topo, let me know what you think!