Xero Shoe customer Randy Kreill the opposite of me.
I'm a "short sprinter". The 100m and the 60m (indoor) are my races of choice. I run a 200m under protest. And, yes, I'm also a "short sprinter" in that I'm 5'5″ 😉
Randy, on the other hand, is a tall, ultra-runner, and has run 50k in his 4mm Connect barefoot sandals.
Personally, I don't even like to DRIVE 50k.
Randy is also one of those guys who likes to experiment. He started with the basic huarache tying pattern, but tweaked it to something he uses for his long-distance runs. It's not a slip-on/slip off style, but you can lace it up pretty quickly. It has a bit of a toga-style look about it. And one thing it does nicely is pull the ankle holes up around your foot.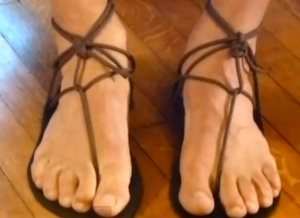 If I were going to use this style (just the tying style…trust me, I won't ever consider running ultra-distances), there are two things I'd consider changing.
Add another knot under the outside ankle hole once you're confident that you have the various lace lengths correct. If you do this, you'll have to adjust the lengths, since adding a knot will shorten the toe strap or heel strap, depending on how you tie it. What this will do is further "lock in" the lacing.
Coat those ankle knots with a layer of epoxy or Shoe Goo. While this style pulls the ankle holes off the ground nicely, the knots add a bit of extra material that's closer to the ground. Add this to the fact that when people are just starting out with long-distance barefoot-style running, they tend to lose their form when they get tired. If you really lose it, you could end up heel-striking or scraping your feet a bit. If you do either of those, you could put some friction on those knots under the ankle holes. The Shoe Goo or epoxy will add some extra protection to the laces in those spots.
One of my favorite things about the barefoot running / minimalist footwear movement is that people are experimenting and coming up with more ideas and improvements to 15,000 year old ideas (like barefoot sandals) in the last 2 years than there have been in the last 14,998 years.
Keep it up everyone.
And good luck, Randy, on those amazing runs!