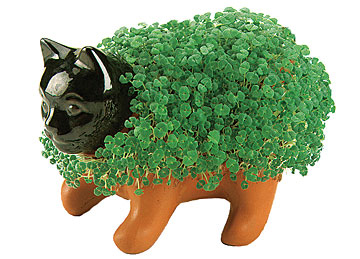 There's been a national recall on some brands of Chia Seeds.
This won't affect you if you think Chia Seeds are something you use to make "pets," but it might if you eat them.
The affected brands include Organic Traditions, Williams-Sonoma, and Navitas Naturals brand chia and chia-flaxseed blend powders.
Many of our readers heard about Chia from the book, Born To Run, which described it as one of the superfoods that the Tarahumara use to fuel themselves for epic runs. And you'll often find barefoot runners with a handful of seeds, or a gloopy-looking beverage full of chia.
The Consumerist blog reported that many people are unaware of the recall of chia seeds, caused by the fact that certain chia brands are contaminated with salmonella and have sickened at least 65 people so far.
So, barefoot runners, and everyone else who eats chia, please check your supplies, and not just the seeds that are still stuck in your teeth from last week's smoothie 😉