Barefoot sandals don't fit the same way as shoes, or other sandals. Just because you wear, say, a size 10 Nike Free, that doesn't mean you'll wear a size 10 Amuri Venture (and, I'm willing to bet you have other shoes that are 9.5 or 10.5… so are you really a 10 😉 ?)
By following the instructions below, you'll get the correct fit for your Amuri Z-Trek, Venture, or Cloud sandals.
NOTE: Please follow these instructions to avoid ordering problems
3 Simple Steps to the Correct Fit
1) Measure your foot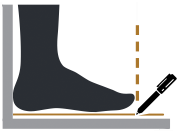 Place a piece of paper against a wall (if you have VERY large feet, use a piece of newspaper.
Place your foot on the paper, with your heel against the wall.
Make a mark on the paper at the furthest point away from the wall… this will either be just in front of your big toe or second toe
Take a ruler and measure from the edge of the paper to the mark you made.
Here's a video showing the process
2. Check your measurement against the charts, below
This will give you a good idea of your size… but PLEASE follow the next step whenever possible, otherwise you still could be a bit off.
NOTE: it's possible that your size will be different for the Z-Trek compared to the Cloud and Venture. Why? Because the measurement for the Cloud and Venture is affected by the length of your toes — how your foot fits on the sole when you have the toe post positioned correctly. But since the Z-Trek has no toe post, foot length is more important.
3. Verify the correct fit by printing the appropriate size template and comparing it to your foot
NOTE: For the Z-Trek, if you seem to be "between" sizes, we recommend choosing the smaller size.
Note: Make sure you print the templates at Actual Size (100% Scale).

Here's a video showing how to use the Template:
We want to make sure you get the correct size and enjoy your Amuri Venture or Cloud sandals. If you have any questions, call us at 303.447.3100 or email us