Want something stronger than the "Toe Knot" in your Xero Shoes Do-It-Yourself kit?
Or, do you want to make it easier to swap out your laces with different colors?
Then use the Toe Posts from our Amuri products.
The Amuri Toe posts are made of comfortable, flexible, super-strong TPU.
In fact, you can take any similar product to our DIY kits and Amuri-ize it with the Complete Hardware kit here.
Grab an extra pair of laces for the "Amuri look."
While the photos, below, show the components in various colors, the hardware is all Black.
---
Here's how you take the FeelTrue® soles from our DIY Kit and "Amuri-ize it:"
Step 1 – Pull the Toe Post through the hole that you punch in the kit (yes, it'll fit!)
a) Put a lace through the Toe Post and put the ends of the lace in the "Hi-Tech Lacing Tool" (the hair pin we include with our DIY Kits). I've made the lace small here, so you can see the whole thing.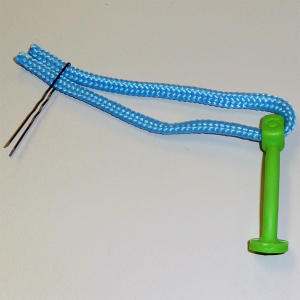 b) Push the Hair Pin through the toe hole you've made in your DIY kit's FeelTrue® sole.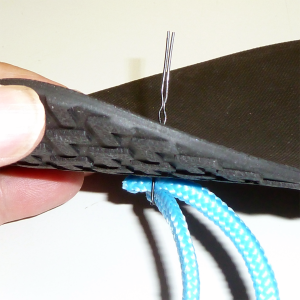 c) Pull the lace through until the Toe Post is up against the sole.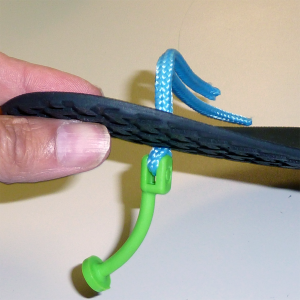 d) In a smooth motion (don't jerk), pull the lace until the toe hole stretches enough for the Toe Post to come through.
Trust me. It works (this is how we make all our Amuri sandals).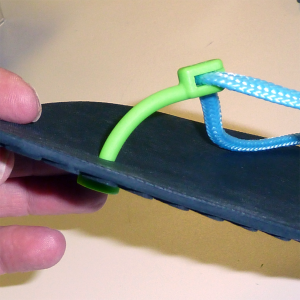 Some people ask if you can feel the Toe Post under your foot…
Well, the bottom of the Toe Post isn't much bigger than the knot you make for your DIY kit. We haven't had anyone yet say that it bothers them.
If you do feel it, feel free to experiment with trimming or sanding it down just a bit at a time to get the feeling you want.