Start enjoying your Xero Shoes just moments after they arrive in your mailbox.
Unlike our DIY kits, or even our Custom-Made Xero Shoes, the Venture is 100% ready-to-wear.
Why you'll love the Venture:
Our exclusive FeelTrue® rubber outsoles, the only sole material made specifically for barefoot sandals. 5.5mm thick for great ground feel with the protection you want
Elegant contour to hold your foot, but without unnecessary support
Pre-laced — just slide in your foot and go
Patent-pending tension adjustment system — find the perfect fit in seconds, and then you can slide your Xeros on and off in a flash.
Super soft toe post — since the huaraches-inspired lacing goes around your entire foot, you don't feel the toe post the way you do in a flip flop or other thong sandal
Super STRONG toe post — won't pull through the sole like flip flops do
Heel cup — keeps your heel in place, helps keep out debris, and adds a splash of color
Nylon Achilles strap with Silicone grip — holds on securely and comfortably
Elevated ankle holes — the lace never touches the ground, and so it won't abrade
Vegan-friendly
5,000 mile sole warranty! Wear out your Ventures in under 5,000 miles and we'll replace them for the cost of shipping and handling (details here)
Get the right size for your Venture
Barefoot sandals don't fit the same way as shoes, or other sandals. Just because you wear, say, a size 10 Nike Free, that doesn't mean you'll wear a size 10 Venture (and, I'm willing to bet you have other shoes that are 9.5 or 10.5… so are you really a 10 😉 ?)
By following the instructions below, you'll get the correct fit for your Venture sandals.
NOTE: Please follow these instructions to get the right fit
3 Simple Steps to the Correct Fit
1) Measure your foot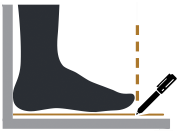 Place a piece of paper against a wall (if you have VERY large feet, use a piece of newspaper.
Place your foot on the paper, with your heel against the wall.
Make a mark on the paper at the furthest point away from the wall… this will either be just in front of your big toe or second toe
Take a ruler and measure from the edge of the paper to the mark you made.
Here's a video showing the process
2. Check your measurement against the chart, below
This will give you a good idea of your size… but PLEASE follow the next step whenever possible.
3. Verify the correct fit by printing the Venture size template and comparing it to your foot
Note: Print the templates at Actual Size or 100% Scale.

Here's a video showing how to use the Template:
How to adjust your Ventures for a perfect fit
Follow these simple video instructions to get the "just right" tension.
We want to make sure you get the correct size and enjoy your Ventures. If you have
any
questions, call us at 303.447.3100 or
email us